Fall Foliage Adventures in the Susquehanna River Valley
Visit our Top Spots for Viewing Fall Foliage
Autumn is the picture-perfect season for outdoor adventures. The air is crisp and the scenery is unforgettable. Scroll on to discover gorgeous spots in the Susquehanna River Valley for viewing fall foliage.
And don't forget to share your fall foliage photos on social media using #ExploreSRV
Fall Foliage Driving Tours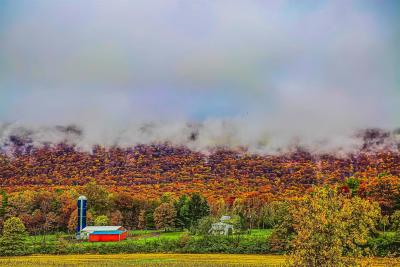 Become acquainted with the natural beauty of the region by taking a leisurely drive on back country roads and quiet downtown streets.
Welcoming Downtowns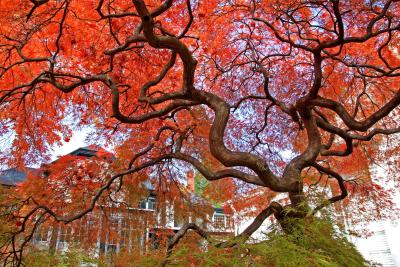 The Susquehanna River Valley is made up of many thriving and welcoming downtowns, each with its own unique character, architecture, and history, not to mention diverse shops, restaurants, and lodging. Our walkable downtowns with tree-lined streets and community parks are perfect for fall walks. Take some time to explore on foot - it's the best way to truly experience our friendly downtowns.  Learn more.
Historic Downtown Walking Tours are a fun and interesting way to explore the quaint down towns of the Susquehanna River Valley. Be sure to notice colorful and informative murals in towns with mural tours.
Lewisburg Mural Tour
Milton Mural Tour
Shamokin Mural Tour
Susquehanna River Valley Universities have Beautiful Campuses Perfect for an Autumn Walk
Bucknell University in Lewisburg's picturesque campus offers beautiful fall sights. From the majestic Malesardi Quad, in the heart of Bucknell's campus, take in the view of the Susquehanna River Valley and Appalachian Mountains. Walk along peaceful pathways past historic academic buildings and through the tree-filled open spaces that surround them. Visit the Christy Mathewson Gates, where every Bucknellian begins their journey. Pick your own path around campus and continue your stroll to quaint downtown Lewisburg whose tree-lined streets complete a picture perfect autumn walk.
Picturesque Covered Bridges
Head Out of Town to State Forests, Parks and Natural Areas for Breathtaking Autumn Views
Bald Eagle State Forest, named for the famous Native American, Chief Bald Eagle, includes 194,000 acres in Snyder, Union County, Centre, Mifflin and Clinton Counties. The forest spans across the high, sharp ridges of central Pennsylvania and features miles of pristine mountain streams and tracts of old growth forest. Bald Eagle offers unparalleled pleasing beauty and boundless recreational opportunities such as an extensive network of trails, awesome scenic vistas, flaming fall foliage and picturesque drives.
 R. B. Winter State Park covers 695 acres within the Bald Eagle State Forest. The focal point of the park is Halfway Lake which is surrounded by beautiful trees, filled by spring-fed mountain streams and contained by a hand-laid, native sandstone dam. Over six miles of trails within the park connect to the extensive trail system within Bald Eagle State Forest.
Photo: Overlook Trail, 0.33 mile moderately steep trail starts on Sand Mountain Road and climbs through an oak and maple forest to an overlook 300 feet above the park.
Shikellamy State Park Overlook
Shikellamy State Park is a 132-acre park that includes a scenic overlook at the confluence of the West and North Branches of the Susquehanna River and the river towns of Northumberland and Sunbury.
Wander some of the 10 miles of trails at Montour Preserve. The Goose Woods Trail is a nice starter trail through trees, along a stream and past the Maple Sugaring Shack. Keep your eyes open for birds and squirrels along the way as well as turtles when you pass the environmental study pond. The Hummingbird Trail is a short fine gravel trail accessible to users with mobility issues and young children. Other trails in the preserve include the Chilisuagi Trail which encircles the lake, Ridgefield Point Loop Trail, Wildlife Management Trail and two permit-only trails, the Oakwood Trail and Alder Swamp Trail. Pick up a Montour Preserve Site Map at the Kiosk located in the Nature Center parking lot. Montour Preserve is maintained by the Montour Area Recreation Commission which also operates a boat rental at the preserve's Lake Chillisquaque which is open through October 31. A paddle around the lake offers beautiful autumn colors and often a closeup look at wildlife along the shore.
Ned Smith Center for Nature and Art
Check a must-visit attraction off your Susquehanna River Valley adventure list during fall foliage season! The wonderful Ned Smith Center for Nature and Art is nestled in delightful woods on Berry Mountain. From the visitor center walk across the pedestrian bridge and stroll the trails for phenomenal views of Wisconisco Creek and brightly colored trees. Be sure to also venture inside the center to see amazing works of art and nature displays.
Buffalo Valley Rail Trail
The Buffalo Valley Rail Trail is a 9.2-mile trail that joins Lewisburg and Mifflinburg. The trail includes bathroom facilities and parking areas at both ends as well as at the mid-point on the trail at Vicksburg and interpretive signage along the route. The trail parallels Route 45 (see map). Along the trail you will see serene farm fields and quiet towns. Autumn brings a pop of color to woodland edges and meadows. Bring your bikes if you prefer to be wheeling along, or bikes can be rented from Earl's Bicycle Store located near the eastern end of the trail in Lewisburg. Purple Lizard Maps recently took an evening ride along the Buffalo Valley Rail Trail. They wrote about their ride on their Adventure Blog. You can read it here. You can also find this trail and many other outdoor recreation locations on the Bald Eagle State Forest Lizard Map.
Autumn Off-Roading Adventures
Once the leaves begin to change to their autumn hues, riders of ATV's, SxS, dirt bikes and full-size vehicles will find unending excitement and off-roading adventure on diverse trail systems that provide a stunning backdrop for fall riding.
The Anthracite Outdoor Adventure Area is an extensive, family-oriented off-road trail system on 8,000 acres of wooded land abounding in autumn splendor to keep riders coming back for more.
Famous Reading Outdoors provides family-friendly, motorized and non-motorized outdoor recreation on 20,000 acres of dazzling color in Northumberland and Schuylkill counties.
View Fall Foliage from the Water
Kayaking and canoeing in the early fall provides a unique view of Autumn's splendor. Head to an area lake or the majestic Susquehanna River for a moving picture show of colorful falling leaves. Keep your eyes peeled for wildlife along the banks.