Lewisburg Mural Tour
The next time you visit downtown Lewisburg, take a brief detour to the Piers Art Park on Cherry Alley. Access the park from a public parking lot just off of North 5th Street.
Walk east to "Modern Art Alley," as the section of Cherry Alley between North Third and Fourth Streets has been called.
At the Donald Heiter Community Center at the intersection of North 5th St. and St. John St. view a mural honoring past Chief of Police Donald Heiter.
Other murals can be found inside the restored art deco Campus Theatre at 413 Market St., on the side of Sculptures Studio at 111 Market St., The Brasserie Fine Dining at 100 Market St., and on White Pine Alley.
Piers Art Park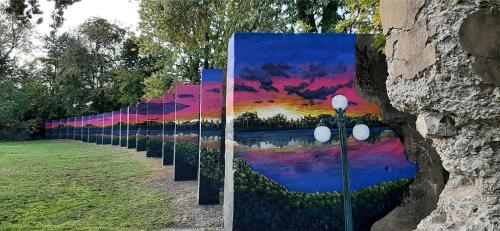 Local artist Steve Gibson, founder of the Milton Art Academy, has painted a mural at the Piers Art Park on 18 of the piers, an arc of 32 concrete monoliths which are one of the most prominent industrial ruins in town.
The concrete piers, dated to the 1920's, were coal trestles within a coal yard that once included sheds, an office, and a scale house with one trestle connecting the Pennsylvania Railroad (the eat/west railroad, now the Buffalo Valley Rail Trail) and one trestle connecting the Reading Railroad (the north/south railroad).
The Piers Art Park is being turned into a beautiful community space for art, music and dance performances, community events and classes.
Modern Art Alley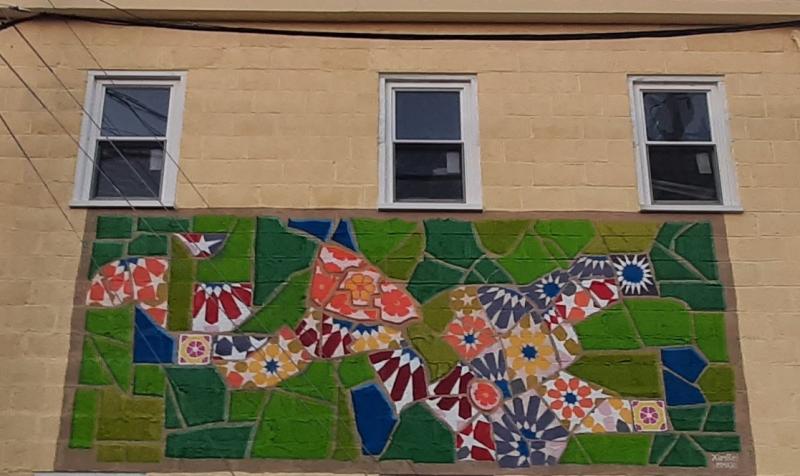 Located on Cherry Alley behind local favorites, All-Star Bagels and Gram's Eatery, this series of murals has transformed a drab alley into a colorful modern art installation. Envisioned, financed and brought to life by local businessman and BnB owner Bob Albin and artist Jim Reid, a stroll down Cherry Alley will delight and awaken your imagination.
Inspired by his favorite artists, Joan Miró, Alexander Calder, Pablo Picasso and Henri Matisse, Reid's art will take you on a journey into the imagination fueled by his bright bold colors and fantastic images.

Donald Heiter Community Center
Located at 100 N. Fifth Street in downtown Lewisburg, the Donald Heiter Community Center is a thriving and integral part of Lewisburg, bringing the community together with welcoming multipurpose facilities and innovative programming for youth, adults, and families.
The community center takes its name and inspiration from past Chief of Police Donald Heiter who was a strong advocate for youth and a safe downtown.
Learn more about the mural project.
Learn more about Donald Heiter and his influence on the Community Center.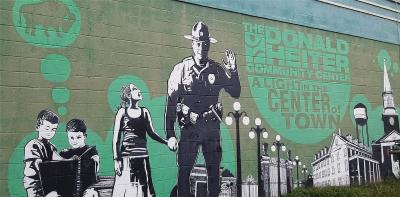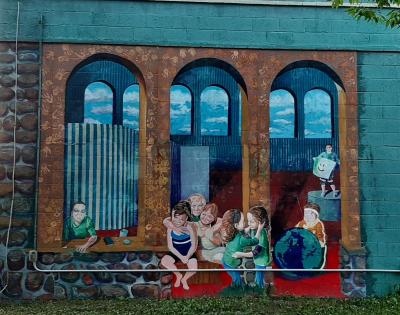 The Historic Campus Theatre
The Campus Theatre is a historic movie theatre located on Market Street in downtown Lewisburg. Built in 1941, the Theatre is one of the few remaining single-screen art deco movie houses in the country. The Campus Theatre remains dedicated to the art of cinema and historic preservation of this architectural treasure.
To preserve the historical heritage of the Theatre and maintain its place in the community, A major restoration took place in 2011 which included repaired lost architecture, systems and infrastructure upgrades, installation of state-of-the-art theater movie and sound systems. Extensive work was also done to restore beautiful art deco murals and a ceiling restoration.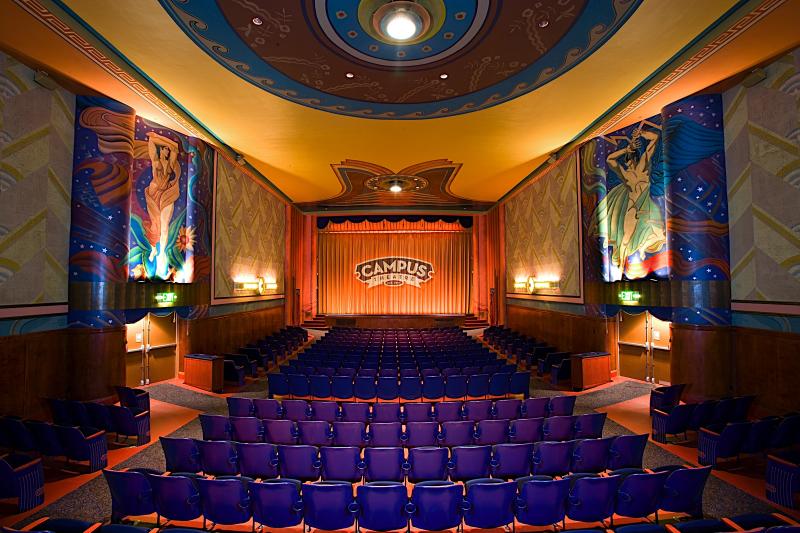 The Brasserie Fine Dining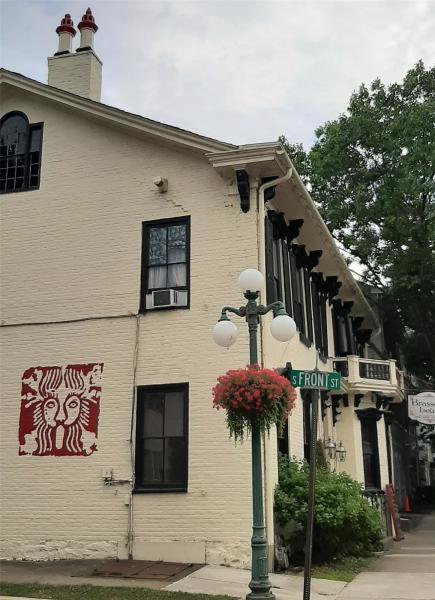 White Pine Alley Mural

Sculptures Studio Salon