Shamokin Monument Tour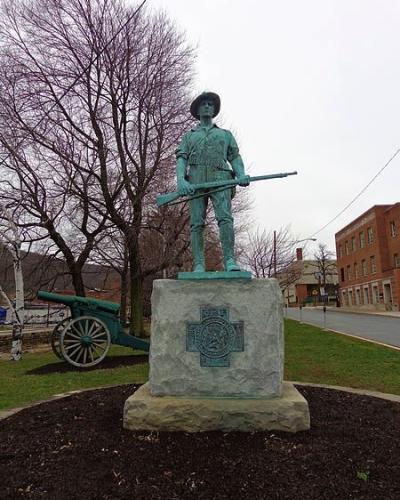 From the JFK memorial to the 80-foot-high Soldiers and Sailors monument, dedicated to Civil War soldiers from Shamokin, you will get a distinct view of Shamokin's history on this Shamokin Monument Tour, a 1.77-mile walk.
Firemen's Memorial – Dedicated October 29, 1926 to Shamokin's volunteer firefighters

Veterans of Foreign Wars Monument - Dedicated November 11, 1982 in honor of Shamokin & Coal Township veterans of all wars.

City Hall Flagpole – Dedicated May 29, 2005 in honor of two Shamokin servicemen who lost their lives during Operation Iraqi Freedom.

Soldier's Circle Monument – Dedicated May 30, 1871 to commemorate fallen Civil War soldiers buried in that portion of the cemetery. The base is a solid block of granite from the Gettysburg battlefield.

Eagle Silk Mill Eagle & Bell – Installed October 2018 – Built in the 1890's the Eagle Silk Mill was the largest textile mill in America under one roof.

Price of Freedom Memorial – Dedicated May 29, 1989 to more than 500 men and women who were killed in our nation's wars.

Soldiers and Sailors Monument – Dedicated September 5, 1898 to honor Shamokin soldiers who fought in the Civil War.

Cpl. David Witmer Memorial – Dedicated May 30, 1988 to honor a nine-year veteran of the Shamokin Police Department who was killed in the line of duty.

JFK Memorial – Dedicated July 4, 1964 during Shamokin's centennial celebration to commemorate the life and presidency of John F. Kennedy.

The Hiker – Dedicated on August 13, 1938 as a tribute to over 200 Shamokin area men who volunteered to fight during the Spanish-American War. "The Hiker" is the official figure of the Spanish-American War Veterans' Organization.

Ann Koshinskie Legacy – This park was dedicated in May 2019 in honor of the first woman to be hired locally for a coal company office.

Stanley Coveleski Monument – Dedicated August 23, 1997 in honor of Major League Baseball player and Hall of Fame player Stanley Coveleski

Claude Kehler Community Park – Dedicated in honor of Councilman and Director of Public Safety, Claude Kehler for the many contributions and accomplishments for the betterment of Shamokin.

Timothy DiOrio Memorial – Dedicated November 2, 2003 to honor PA state trooper and Coal Township firefighter Lt. Timothy DiOrio who was killed in the line of duty.
More information about the monuments, locations and a map can be found from the Ready, Set, Fit! app.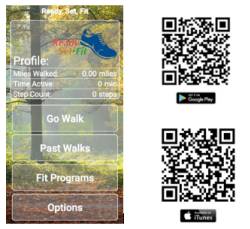 Ready, Set, Fit! is an exciting new way to learn about your surroundings at the same time as you get in those steps and walk your way towards fitness! Ready, Set, Fit! is a free health and wellness app that is the result of student/faculty collaboration at Bucknell University.  Developed with the support of the Degenstein Foundation of Sunbury and the Office of the President at Bucknell University, the new smartphone app connects physical fitness to place-based learning through themed walking paths.