Partner Benefits
Our goal it to connect consumers of all types - whether tourists, business travelers or residents - to partner businesses.  When you join the growing list of Susquehanna River Valley Visitors Bureau partners, you open the door to these core membership benefits and opportunities:
Listing in our Official Guide, with a yearly distribution of 50,000 hard copies
Brochure distribution through our Visitor Information Center, PA Welcome Centers and at over 260 locations throughout the region
Listing on VisitCentralPA.org
Exclusive referrals from outside calls, travel writers and visitors to our Visitor Info Center
The ability to showcase your business in attractive display cases at our Visitor Info Center
Weekly faxes or e-mails of local events and happenings
Updates about Bureau marketing initiatives, membership news and industry trends
Promotion on the SRV's Facebook page, www.Facebook.com/SusquehannaRiverValley, when appropriate.
Promotion of events on the SRV's Facebook event page. www.facebook.com/pg/SusquehannaRiverValley/events
Networking opportunities such as Member Mornings, Lodging Meetings and Special Opportunities
Ability to post events, promotions and sales on our online calendar - the most viewed section of our website
Partnering opportunities with Visitors Bureau and other partners
Co-op marketing opportunities 
For additional questions about your SRVVB partner benefits, please contact Judy Machesic at 570-524-7234 or [email protected].
Want to know what our partners have to say about us?
Here are some recent testimonials
Website
Our website alone is worth your membership investment! VisitCentralPA.org receives between 10,000-20,000+ unique visitors per month. That's a lot of exposure for your business or organization. The website is featured on every piece of our advertising - including local, regional and national ads. As a member, you receive:
Online listing that includes your business name, address, phone number, website link, up to 8 high resolution images, description (up to 150 words), social media link and Google Map link
Opportunity to post events and promotions on our Calendar of Events
Opportunity to post overnight packages
Advertising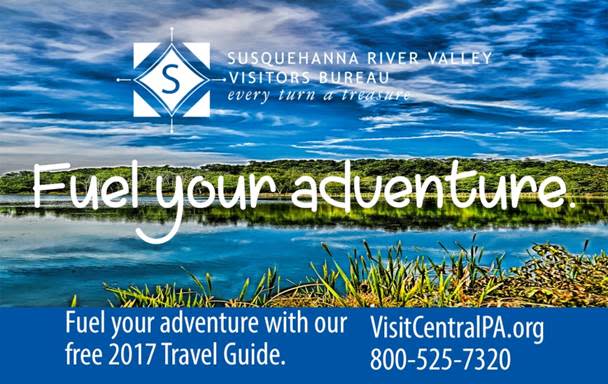 The Visitors Bureau does marketing on a local, regional, and national scale. While it varies from season to season, the Bureau typically advertises in the following large-scale publications:
Where & When Magazine
Blue Ridge Outdoor Magazine
Susquehanna Life Magazine
Guest Quest Traveler Vacation Guide
Horizon Travel Magazine - a division of the Wall Street Journal
Newspaper inserts in major east coast metro areas
 
Brochure Distribution
We will distribute partner brochures at the Visitor Info Center (located at Route 15 and Hafer Road in Lewisburg) and in local racks at hotels, restaurants and the like. The Susquehanna River Valley Visitors Bureau has over 260 brochure racks throughout the region.
We will also deliver brochures TO YOU for display at your business. Please contact Member Services Director Judy Machesic at [email protected] to secure more information on securing a brochure rack for your location and selecting brochures to promote in your display.