Buffalo Valley Rail Trail
Union County Trail Authority
The Union County Trail Authority (UCTA) was created by the Union County Board of Commissioners in 2018 to own and manage the Buffalo Valley Rail Trail and for the purpose of advancing future trail development.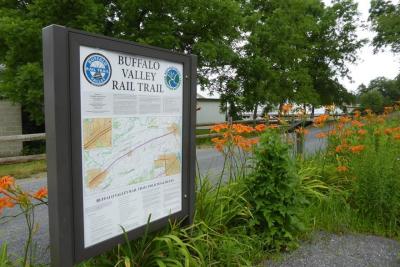 BUFFALO VALLEY RAIL TRAIL FACTS
States: Pennsylvania
Counties: Union
Length: 10.28 miles
Trail end points: Market Street, Lewisburg PA and N. 10th Street, Mifflinburg, PA
Vehicle Parking: At trailhead end points, with vehicle parking also available at Vicksburg ( 40°56'30.66″N,  76°59'2.58″W)
Trail surfaces: Asphalt, Gravel
Trail category: Rail-Trail
Restrooms: Restroom accommodations at the Lewisburg, Mifflinburg and Vicksburg trailheads.
Trail activities: Bike, Inline Skating, Wheelchair Accessible, Mountain Biking, Walking, Cross Country Skiing 
Learn more about the history of the Buffalo Valley Rail Trail and find a map at UnionCountyTrails.org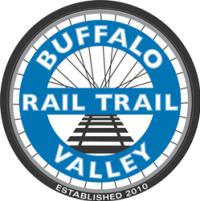 The Buffalo Valley Rail Trail is a 10.28-mile long finished scenic trail that spans between Lewisburg and Mifflinburg with trailheads, facilities, and parking areas. Thousands of visitors and residents walk, run, and bicycle the Rail Trail since the trail opened in 2011.
The Buffalo Valley Rail Trail is a protected spine of asphalt and gravel stretching between Lewisburg and Mifflinburg, PA.  It is available to serve all ages and abilities, whether for recreation or transportation. The trail provides a safe environment for children to play, dogs to explore, and adults to unwind.
Join us on the trail to connect, revitalize, and get a breath of fresh air!
The Buffalo Valley Rail Trail is the first developed off-road trail in the area. The trail alignment parallels Route 45 which is the primary east-west corridor from Lewisburg to Mifflinburg.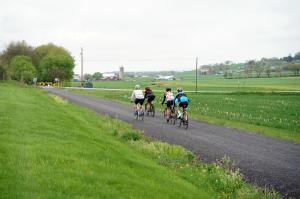 Directions to the Lewisburg Trailhead:  From the Rt 15 and Rt 45 intersection, head west on Rt 45, away from downtown Lewisburg.  Go to 15th St and turn right/north.  Look for parking lot entrance just before the rail trail crosswalk.
Directions to the Mifflinburg Trailhead:  Traveling on Rt 45, look for the intersection with 5th St, toward the western end of town.  Turn north, right if coming from the east and left if coming from the west.  Go two blocks and look for the turn into the trailhead parking lot on the left just past the trail crosswalk.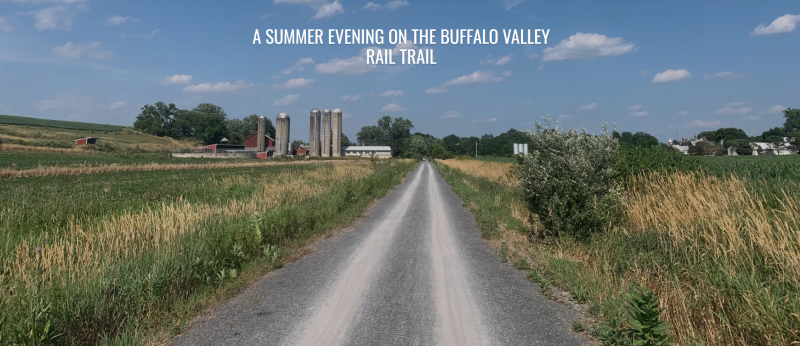 Rail trails are a fantastic way to get out and enjoy the scenery on two wheels and Purple Lizard Maps recently took a summer evening ride along the Buffalo Valley Rail Trail. They wrote about their ride on their Adventure Blog.
You can also find this trail and lots of other fun on the Bald Eagle State Forest Lizard Map.
Events on the BVRT include:
Trail Rules of Etiquette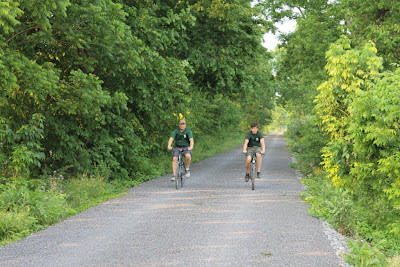 For the safety and enjoyment of all trail users and neighbors, please observe and practice the following trail rules:*
Trail open from dawn to dusk

No motorized vehicles or horses permitted

Obey traffic signs at all crossings

Keep to the right - call out when passing

keep dogs on a short leash and clean up after them

Do not litter - carry in, carry out

Do not disturb or feed wildlife or livestock

Do not cut or remove vegetation or crops

Park only in designated areas

Respect our rail trail neighbors: stay on trail; keep quiet

No alcoholic beverages, camping or fires

No hunting on or from the trail

Be alert - Be courteous
*Bicycles, pedestrians, skates, skateboards, non-motorized scooters, Class 1 electric bikes, and baby strollers are the only permissible uses on the Trail. For purposes of these Rules and Regulations, Class 1 electric bikes is any bicycle
equipped with a motor that provides assistance only when the rider is pedaling, and that ceases to provide assistance when the bicycle reaches the speed of 20 miles per hour. No motorized vehicle, livestock or horses whatsoever, will be allowed on the Trail.