Fireworks Displays
Celebrate the 4th of July holiday in the Susquehanna River Valley!
Many of our downtowns offer amazing, colorful, FREE fireworks displays!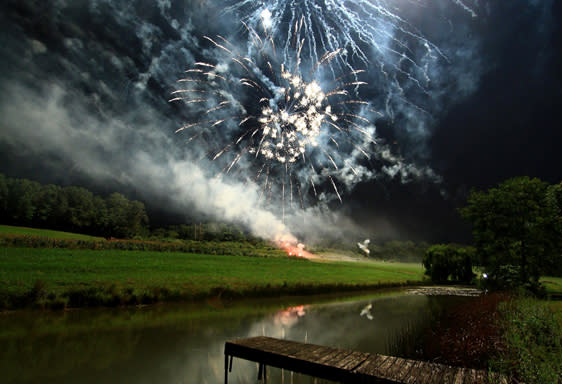 Hidden Valley Camping Resort Fireworks Spectacular
Date TBD
Carnival, bingo, food stands, golf cart parade, DJ and Fireworks at Dusk.
Lewisburg:
Union County Veterans' 4th of July Celebration and Fireworks
Friday, June 23 beginning at 5pm: Community Gathering, Patriotic Show with Train Wreck Survivors and Fireworks Show
Parade will be held June 24 at 10am followed by the Union County Veterans' Recognition Ceremony at 12:15pm and 2023 Picnic in the Park and Band Concerts at the President's Grove, Bucknell University on Loomis St. and University Ave.
(267) 760-3332
Veterans, sign up for this year's parade. Parade day is Saturday, June 24th. Message or contact Terry Burke (267-760-3332) to register.
Mifflinburg
Millersburg Fireworks Show
Sunbury: Sunbury Celebration
Watsontown
Pardoe's Perky Peanuts Celebrates the 4th of July
Date: TBD
Pardoe's Perky Peanuts, 143 S Center Street, Montandon 17850
Please join the Pardoe family for a fireworks show to celebrate the Fourth of July! There is a large grassy area beside the factory where the community is welcome to come to watch. Please bring your own blankets, chairs and bug spray so you can enjoy the show comfortably.
Middlecreek Valley Antique Association Annual Fireworks Show
Our Fireworks Show will be held on Friday night, July 1st at 9:30 PM (Rain date is July 2nd). We will have our Trackside Food Stand open this year, with a limited menu, and there will be other refreshments there as well. This event will be held on our show grounds along Old Colony Road in Selinsgrove next to the Snyder County Prison. Free, donations gladly accepted to defray costs and permitting. Free parking on the show grounds in upper parking lot.
Shamokin Red, White and BOOM!
Every year people from all over the are flock to Shamokin-Coal Township to see our fireworks! We are hosting a downtown celebration leading up to the fireworks with activities, food, and vendors! Festivities will be in Independence St from Anthracite St to Cleaver St and 8th St from Water St to Commerce St
Food trucks & Vendors.
Corn hole tournament!
Covered Bridge Brew Haus will be providing music from 2pm-9pm and a DUNK TANK on 8th St!!!
Tranquility Tattoo will be hosting BINGO with Aunt Jodie!!!
More details to come! Watch Facebook: GoShamokin for updates.

State College Central Pennsylvania 4th Fest
Central PA 4th Fest returns! Announces this year's show will be the largest fireworks display in Pennsylvania. 
After three years. The Central PA 4thFest is elated to announce a full day of family friendly activities and events, and what will officially be the largest fireworks display in Pennsylvania. 
Back are the popular Firecracker 4K run and walk, the Independence Day Parade, live music, community activities, and an amazing fireworks display with several different options for prime viewing. 
"We are so excited to once again present the 4th Fest celebration in a manner that residents of our community and visitors remember prior to the pandemic" said Central PA 4th Fest new Executive Director Celesta Powell. Powell accepted the daunting task of the 4th Fest in September of this year. "What is not to love about coordinating a one day birthday party?" She jokes when asked about her role. 
Powell noted in 2020, the Central PA 4th Fest operated at four satellite locations throughout Centre County, and in 2021 and 2022, as smaller gatherings due to continued restrictions on large recommendations. This community has had a 4th celebration since 1927 and we were committed to continuing that tradition in whatever way we could. With that being said, we are so happy to see the 4th Fest resemble what we have come to love on July 4," 
Scott Walker, the Central PA 4th Fest fundraising committee chair reports that tickets will be available for presale on April 4. "We wanted to keep the 4th as a common theme. We have 4 person packages available on the 4th, for the 4th." While details of musical acts and events are still being finalized, both Walker and Powell emphasize to watch their social media sites as well as their websites for all updates. 
Tickets and information for the event will be available at the Central PA 4th Fest website , State College Spikes website or by calling the State College Spikes Box office at 814-272-1711. 
"This event is not a one person show. It is only possible with our community's support and partnerships. We are honored to partner with The Pennsylvania State University, community volunteers, and our generous sponsoring organizations, as well as the State College Spikes organization. I would also like to highlight the volunteer board of directors and committee, their dedication to this event is undaunted. The Central PA 4th Fest is only as successful as the community allows us to be, and I am convinced that our powerful community will bring forth an outstanding day for everyone. 
Powell says the Central PA 4th Fest welcomes volunteers, parade registrations, and sponsorship opportunities. She says you can email her or complete an application on line. "Please reach out- we need you. I can find something for anyone interested in being a part of this feel good event. We want to see everyone out here with us. We can't wait for the 4th and are determined to offer a show that you won't want to miss!" 
Reach out to Celeste Powell Executive Director at: 814-470-5955; [email protected]; www.centralpa4thfest.org 
Central PA 4th Fest 2023 is in the making!
Williamsport:  Set the Night to Music, Thursday, July 4
Enjoy our Independence Day fireworks. This year's display will begin at 9:40pm at the Lycoming County Fairgrounds. Music to accompany the fireworks display will be aired on WILQ. More details to come. Williamsport Fourth of July
Fireworks Safety Tips for Pets
For many families, the Fourth of July is a day filled with BBQ, fun and fireworks. Communities enjoy watching the dazzling displays of lights that sparkle and light up the night sky. The loud noises of fireworks only add to our excitement. For most pets, however, the 4th of July can be terrifying. More pets run away on the Fourth of July than any other day of the year.
Fireworks Safety Tips for Pets
Leave your pet at home. 
Tire your pet out. 
Make a safe, secure space for your pet. 
Create a distraction. 
"Soundproof" your space. 
Make sure your pet is ID'd. 
Talk to your veterinarian.
For more ideas and information check the following links about Pet Safety!
American Veterinary Medical Association
Family Circle: Pets & Fireworks Safety
ASPCA