Mifflinburg's Christkindl Market
With Thanksgiving dinner a distant memory, it's now time to think about holiday celebrations. The holiday season is a time for thanks, celebration, reverence and traditions. December's "must-see" event is Mifflinburg's Christkindl Market. Hopefully this festive outdoor event will become a holiday tradition for you and your family.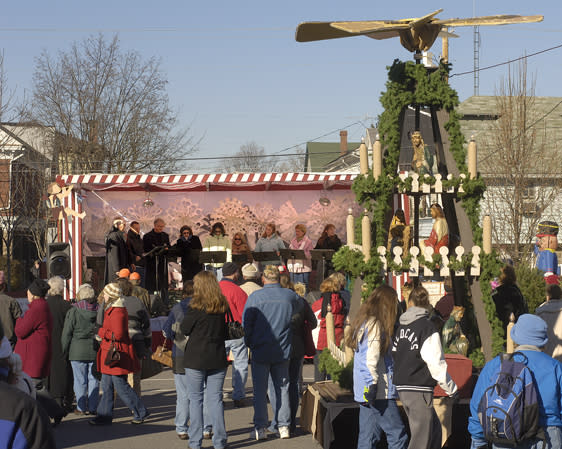 The idea of starting a Christkindl began with Rudi Skucek , an Austrian native who retired to his wife's hometown of Mifflinburg. At the same time, the local Main Street organization was looking for the perfect event that would both promote and celebrate the town's German heritage. 
Now one would think that combining these two ideas would be a "marriage made in heaven." However trying to sell the idea of an outdoor, 3-day event that would host food and craft vendors in huts (did I mention it's in the WINTER?) was not a piece of kuchen (German for cake).
It took a full year of education, inspiration and determination, but finally in 1988, Mifflinburg's first Christkindl opened in December, hosting vendors in twenty huts on a closed street. Though other German themed events took place throughout the United States, none occurred completely outdoors. Our very own Mifflinburg claims to be the oldest outdoor Christkindl Market in the United States.
Mifflinburg has done its best to keep the event as authentic as possible to European Christkindl markets. "Christkindlmarkt" - or Christ Child Market - is a 700 year-old tradition mostly celebrated in Austria and Germany and hosted by a town's organizations, churches, schools and residents. In Mifflinburg, local Mennonite residents and churches have embraced this custom, making traditional Christkindlmarkt items such as prune men and gingerbread hearts with German phrases. Visitors will see a wide variety of German entertainment, décor, food and gifts.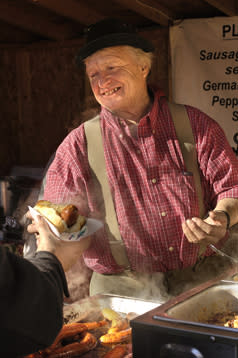 Dress appropriately for the wintry outdoor weather, but rest assured, this event will warm your heart and senses. As you stroll down hut-lined streets, you'll find food vendors offering such tasty treats as bratwurst, apfelstrudel, Hungarian goulash, hot mulled wine and German beer. You'll be able to try a variety of other regional, hometown traditions such as pierogies swimming in butter and onions, sauerkraut chowder, scrapple sandwiches, pumpkin roll, whoopie pies, chicken corn soup with rivels, a variety of strudels, knackwurst, pork and chicken schnitzel, corned beef, lebkuchen, gyulai, thueringer, weisswurst and stollen, plus hot soups and hot sandwiches that will keep you warm and toasty!
Children can visit the Elf School in Children's World where they will meet Mrs. Claus and her elves and walk away with a diploma! Be sure to visit the gingerbread family in the gingerbread house making gingerbread cookies; the dolls and teddy bears at the peek-a-boo doll house, or listen to German stories at the Firliputzli Story House. And adults don't feel left out – you have your very own Christkindl pub where you can enjoy a glass of glow wine (Glühwein) and German beer!
And don't forget to visit the wide variety of crafts and items for sale.  As you meander through the Market, you will find such items as scarves, mittens, gloves, handbags and hats; jewelry, leather goods, wooden game boards and boxes;  stained glass, ornaments, wreaths, cast iron décor, candles, puppets, wine, pottery, soaps – and that is just a sample of the goods that over 100 vendors have to showcase.

Mifflinburg's Christkindl Market is the perfect way to learn and sample German culture and heritage and is the perfect place to buy that last minute, hand-crafted gift for a friend, family, co-worker, Secret Santa, or…buy a holiday gift for yourself – you deserve it. Make Mifflinburg's Christkindl Market an annual part of your holiday traditions!
Best place to park:  There is a shuttle service at the east end of town on Route 45, well marked with blinking road signs, in constant operation.
Best time to come:  The Market is most charming after dusk, with all the lights glowing.  However, if you want to avoid a crowd, Friday afternoon is the best time. 
Go to the information booth and request a Christkindl customs quiz (and answer sheet) to learn more about Market traditions.
This three-day event features over 100 vendors and continuous entertainment in adjacent churches and an outdoor stage in the center of the Market.
Best kept secret:  Through a special program, the Federal Bureau of Prisons provides eight inmates to help set up and tear down the event.
Many Germans come to visit Mifflinburg's Christkindl Market, claiming it is more authentic than many in Germany.