Susquehanna River Guides
Permitted Fishing Guides in the Susquehanna River Valley
Permitted by the PA Fish & Boat Commission
The Susquehanna River can be fished at its best through private tour guides. The Susquehanna is well-known for its large mass of smallmouth bass. The Susquehanna is also filled with a great deal of walleye, catfish, and smaller panfish. Other fish consisting of musky, northern pike, pickerel, American shad, and much more are found within the bases of the river. Due to the smooth flowing water of the Susquehanna and its large population of fish, the Susquehanna ranks among the top of rivers in PA.
Northumberland County Guides
Southside Sports
Kenneth S Maurer
1051 South Front Street
Sunbury, PA 17801
570-988-0360
Snyder County Guides
Jim Charles
Isle of Que River Guides
508 South Front Street
Selinsgrove, PA 17870
570-374-9310
www.isleofqueriverguides.com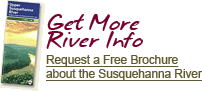 Susquehanna River Fishing Resources
Other Websites
Pennsylvania Fish and
Boat Commission
Purchase a fishing license, get official maps and learn Pennsylvania fish rules and regulations.
CyberAngler.com
Get reports and updates on fishing in the Susquehanna River Valley.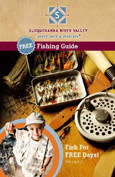 Susquehanna River Valley Fishing Guide

Regardless of the season, the natural beauty of the Susquehanna River Valley's streams, creeks, lakes, and its namesake, the Susquehanna River, invites all to explore the great outdoors.
Along with many pristine fishing areas, which this Guide will outline, the region is also home to three state parks: Shikellamy State Park and Marina, Milton State Park, and R.B. Winter State Park.