Cycling in the SRV
The Susquehanna River Valley: A Premier Cycling Destination
The Susquehanna River Valley is the perfect Mid-Atlantic cycling destination for riders of every age and stage. Central Pennsylvania is superb for bicycling, whether you like an easy ride on a local rail trail, longer road rides through the countryside or strenuous mountain biking through gorgeous forest lands.
The changing seasons in Central PA, each with their own unique beauty, are one of the many reasons people love living in and visiting the Susquehanna River Valley. The seasons have changed. Spring is here. The landscape is coming alive and the views are stunning. So we encourage you to come outside!
We've compiled a list of resources and routes for all kinds of cycling.
Local Bike Routes
Thanks to the hard work of an intern from Temple University, we have five redesigned bike maps to offer. They are also available in hardcopy form at our Visitor Center on 81 Hafer Road in Lewisburg.
Covered Bridges Tour:
Did you know that the Susquehanna River Valley is home to 17 unique and quirky covered bridges? Plan a scenic ride to see some of the covered bridges (or plan a multi-day trip and ride to each of the bridges)!
Download a copy of the Covered Bridge Brochure or stop by our Visitor Information Center and pick up a copy.
The Buffalo Valley Rail Trail is a 10.28-mile-long scenic trail between Lewisburg and Mifflinburg with trailheads, facilities, and parking areas at both ends of the trail as well as at the mid-point in Vicksburg. It is available to serve all ages and abilities, whether for recreation or cycling transportation. The trail provides a safe environment for children to play, dogs to explore, and adults to unwind. Join us on the trail to connect, revitalize, and get a breath of fresh air!
The Susquehanna Greenway is ready for you to explore! Grab your bike and helmet and enjoy the local scenery on riverside trails and through diverse and authentic River Town communities. The Susquehanna Greenway corridor includes the river itself as well as the parks, trails and communities that line the river's banks.
Bald Eagle State Forest, Snyder and Union Counties, Mountain Bike Rides:
Mifflinburg:
Middleburg:
Mountain Bike Trails in Weiser State Forest, Northumberland County
Excellent mountain bike trails can be accessed east of the village of Natalie (between Route 54 and 42), located at the top of a mountain, on old strip-mine land.  The forest has grown back, and the terrain is unique, diverse and challenging.  All the trails were built by local riders over the last 30 years.  Most of the trails shown on 'Trail Forks' trail map are located on Weiser State Forest.
Many more technical trails are located south of the 'Black Road' on private property and include the region's first jump line trails. Because it's an old strip mine - much of the ground surface is slag.  The 'black road' is aptly named due to the site's mining history.  This ground material makes for a great, durable trail surface that is easily sculpted into flow trails, with little damage to the environment.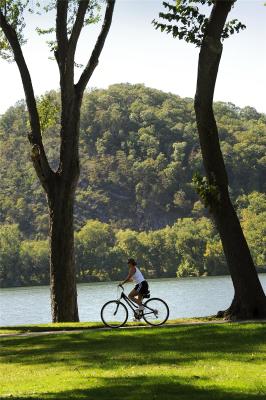 Weiser State Forest also boasts an 8-mile, shared-use trail -- running the length of the valley on the Roaring Creek Tract -- is open to visitors interested in a relatively level ride. This trail offers a leisurely trip through the scenic valley along the creek and reservoirs.
Many roads and trails on Weiser State Forest are open to mountain bikes. The Roaring Creek, Haldeman, and Greenland tracts in Dauphin County are very popular biking destinations.
Twenty-eight miles of marked, shared-use trails are available, as well as another 27 miles of state forest roads. The variability of topography in this region offers trails for all skill levels.
Shikellamy State Park - A 1.5-mile, paved walking and biking path encircles Shikellamy Marina. Biking is prohibited on Shikellamy Overlook trails.
Milton State Park - There are 3.5 miles of trails at the park which allow exploration of the riverine habitats of the river island.
RideWithGPS.com Routes
Find the perfect route in the SRV with RideWithGPS.com.
Get turn-by-turn directions, waypoints, and custom cues. Use printable PDF maps and cue sheets, or export routes in any file format you want.  Use multiple map styles, including satellite and street-view, to ensure you have the best route every time.
Or use Mobile Routing from Your Phone. Available for iOS and Android, the world's best route planner can go anywhere you go. Multiple map styles, real-time elevation data, editing route colors, it's all there. With Satellite, OSM and ESRI based maps, in addition to the ability to search for locations to route to or add as waypoints, planning your perfect tour is only a few taps away.
EXPLORE with RidewithGPS' mobile app, a new way to search and discover all the best routes.
MAP-BASED: No more scrolling through lists of routes with no map for context — EXPLORE lets you view the map for a particular area and immediately see the best and most popular routes, while supplying details about surface type, length, elevation and more.
FINE-TUNED: Looking to ride a certain length? Want to avoid hills? Need to see routes that start from a precise location? EXPLORE allows you to fine-tune your search criteria to generate routes to suit your specific needs.
Gravel Cycling
The SRV is fast becoming a mecca for gravel riders who seek out premier raw road cycling adventures. Dirt & gravel roads take you through idyllic farm country, over relentlessly rolling hills, along running waters and through gorgeous, old-growth forests.
Central Pennsylvania's Susquehanna River Valley is home to the nationally acclaimed unPAved of the Susquehanna River Valley, a premier gravel ride covering 120-miles of raw forest, mountain, valley & farm roads during peak fall foliage season.
For an insider's look at riding unPaved check out the 2021 video here!
For more information, course segments, map and timing visit GoPromotions.com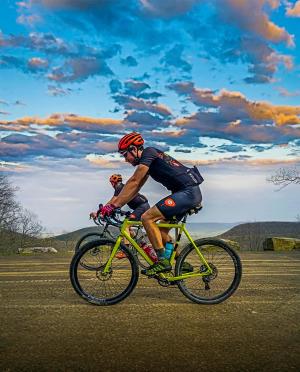 unPAved  - "The Proper Parts"
For those that want to ride "The Proper-54" on their own.
https://ridewithgps.com/routes/33283524
unPAved  - "The Difference"
For those that want to check out the hardest part of unPAved (with an easy ride to it, and back). https://ridewithgps.com/routes/28243878
unPAved UNsupported
A century based off the unPAved course, that ventures into civilization so you can refuel.
https://ridewithgps.com/routes/33287774
Cycling Weekends in the SRV!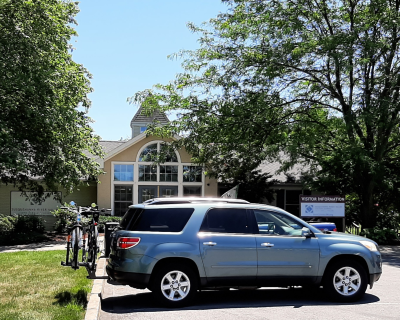 With so many wonderful cycling opportunities and great routes, why not plan a cycling weekend in the Susquehanna River Valley?
The region has lodging options for every taste and budget -- including boutique bed and breakfasts, historic inns, nationally-branded hotels and motels, and a variety of campgrounds, cottages and cabins.
It's time to start planning your getaway!
Susquehanna River Valley Lodging

Time for a Tune-up! Bicycle Shops in the SRV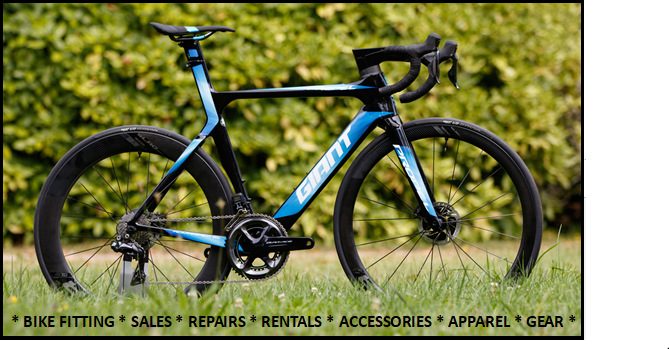 You may just enjoy a relaxing weekend ride on a local rail trail, or you may be a hard-core cyclist logging hundreds of miles a week. Maybe you're thinking about using your bike to commute to work and get around town or simply adding some outdoor cycling to your daily exercise routine.
Whether you are a warm-weather cyclist and your bike is put away until sunnier days or you brave the colder months riding through snow, ice and mud, your bike could almost certainly benefit from some TLC. Perform regular maintenance to keep your ride in tip-top shape. We recommend the professionals at Brookside Bikes in Mifflinburg or Link Cyclery in Lewisburg. If you are looking for a new bike or accessories to make you adventures safer and more comfortable you will find just what you need along with expert advice at both shops. Or if you prefer, bicycles can be rented from Link Cyclery. Both shops are located adjacent to the Buffalo Valley Rail Trail (BVRT), a perfect beginners trail that lets you explore our scenic countryside.
170 E. Walnut St.

(570) 966-1062
Brookside Bikes is family-owned and -operated and located adjacent to the Buffalo Valley Rail Trail in Mifflinburg. It's the perfect place to start a scenic bike tour of the beautiful Susquehanna River Valley. Since 2009, Brookside Bikes has offered a wide selection of new and…
427 Fairground Rd.

(570) 524-1249
Link Cyclery LLC is a family friendly bike shop that focuses on quality and integrity. With a wide range of bikes in Road, Mountain, Gravel, Hybrid, Children's and E-Bikes, you can find your ride here. Providing bike repairs from flat tires to overhauls, your bike should be fixed…
unPAved is a premier gravel bike race through the forests, hills and idyllic farm country of the Susquehanna River Valley. The unPAved courses feature great gravel, serious climbs, amazing descents, fantastic foliage, delicious aid stations, and a variety of routes to accommodate…