Susquehanna River Valley Lakes
Part of the Susquehanna River Watershed, local lakes in the Susquehanna River Valley also offer great fishing, boating and other outdoor recreation opportunities.
Lake Augusta, Northumberland County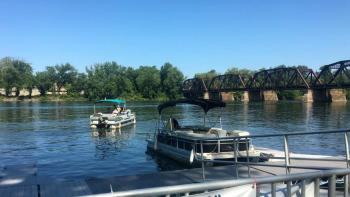 The body of water created by the  Adam T. Bower Dam was named after a frontier outpost located in the vicinity of Sunbury during colonial times. When the dam is fully inflated it raises the water level at least eight feet and affords 4 miles of unhindered boating. The lake is approximately 12 feet deep at the dam, tapering off to two and a half feet at the uppermost reaches.
Access to the Lake Augusta can be gained chiefly through the Shikellamy State Park on Packers Island between Sunbury and Northumberland. The park offers 100 marina slips (that may be acquired through seasonal leases) and boat launching areas for day trippers. The park also offers areas for hiking, picnicking and bicycling.
A boat concession operates from Shikellamy State Park Marina.
Faylor Lake, Snyder County
Faylor Lake is a shallow, 140-acre lake laying in the large valley between Jacks's and Shade Mountains in western Snyder County just outside of Beaver Springs. Fed by Middle Creek this lake is home to numerous species of warm water fish, turtles, migratory birds, songbirds and frogs. There are parking lots and a gravel boat ramp. Subject to all applicable Fish & Boat Commission regulations, boating is limited to un-powered boats only.
Walker Lake, Snyder County
For fishing and boating (electric motors only), the 239-acre Walker Lake near Troxelville in western Snyder County, is excellent. The lake and shoreline are owned and managed by the Pennsylvania Fish and Boat Commission. Current species include northern pike, largemouth bass, walleye, black crappie, and bluegill.
Halfway Lake, Union County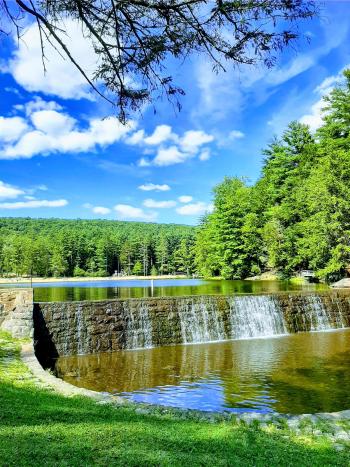 Located within R. B. Winter State Park, Halfway Lake is filled by spring-fed mountain streams and contained by a hand-laid, native sandstone dam. Swimming, fishing and self-powered boating are allowed.
The swimming beach features 300 feet of white sand and is open from late-May to mid-September, 8:00 A.M. until sunset. The beach area includes restrooms, dressing facilities, a beach volleyball court, children's play area and concession stand. Swimming is at your own risk without lifeguards. Because the lake is spring-fed, the temperature is a chilly 50 degrees.
With the exception of the swimming area, the lake and its tributary streams are open to public fishing. The Pennsylvania Fish and Boat Commission stocks the lake and Rapid Run regularly during the season. The park is a coldwater fishery, stocked with brown, rainbow, and brook trout. Many anglers gather near the sandstone dam or the fishing pier.
Self-powered canoes and kayaks are permitted at the lake but must be registered with the PA Fish and Boat Commission.
Fishing Resources:
Halfway Lake Water Depth Black-and-White Map (PDF)
Halfway Lake Water Depth Color Map (PDF)
Pennsylvania Fish and Boat Commission regulations and laws apply.
Lake Chillisquaque, Montour County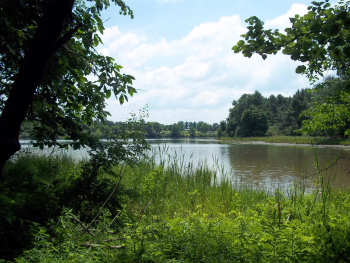 Lake Chillisquaque, a 165-acre reservoir on the middle branch of Chillisquaque Creek, was built as a backup cooling water supply for the nearby Montour Power Plant.  The name 'Chillisquaque' comes from the native American term meaning 'song of the wild goose' which is appropriate as more than 50 species of waterfowl including mergansers, thunder swans, herons and snow geese can be observed during migration.
Swimming is not permitted in Lake Chillisquaque.
Boating Lake Chillisquaque
Pennsylvania registered self-powered boats are allowed on the Lake. If you do not have your own boat, Montour Area Recreation Commission now operates a boat rental concession at the lake. Unpowered watercraft rentals (canoes, kayaks, stand-up paddleboards) are available.  Learn more about available options and book your rental now by calling (570) 849-3010 or by visiting: RAC Boat Rentals at Montour Preserve
Be aware that boating is not allowed annually between March 15 and April 30 and is also forbidden in Goose Cove year-round. Boating access to the lake is on the eastern side of the lake, at the Heron Cove Boat Access Area.
Fishing in Lake Chillisquaque
The lake is home to a naturally reproducing fish population monitored by the PA Fish & Boat Commission.  It includes the following game species:
Northern pike
Largemouth bass
Channel catfish
Bullhead catfish
Black crappie
Bluegill
Yellow perch
Walleye
When fishing in Lake Chillisquaque, the most effective baits are often minnows, nightcrawlers, and crawdads.  Anglers and fish favor some artificial baits such as jigs, buzz baits, Rapalas/Rebels, crankbaits, and plastic worms.
In cooperation with the PA Fish & Boat Commission. and a local bass club, a variety of fish structures have been placed in the lake over the years to enhance fish habitats, recreational fishing, and provide shelter and spawning sites for fish.  To learn more about the PA Fish & Boat Commission's habitat improvement efforts, please click here. For more information visit: Montour Preserve Fish & Boat
Weiser State Forest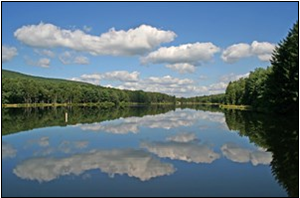 Boating at Weiser State Forest in Northumberland County is permitted for electric motors and non-motorized boats on two of the three reservoirs on the Roaring Creek tract; the 184-acre McWilliams' Reservoir and the 31-acre Kline's Reservoir.
A short hike is required to access the Kline's reservoir. The portage to McWilliams' Reservoir is approximately two miles.
A limited number of boat mooring spaces are available at the Roaring Creek tract. For more information and to apply for a space, see the Weiser State Forest Lottery Application for Mooring Space (PDF).