Fishing in the Susquehanna River Valley
Susquehanna River Fishing...An Outdoor Treasure in PA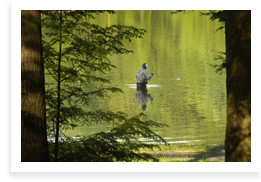 Insider's Guide to Fishing in the Susquehanna River Valley
Within this 444-mile long majestic river, fishing opportunities abound for all levels of fishermen.  Known for amazing small mouth bass fishing, the Susquehanna River supports many other fish like catfish, rainbow trout, large mouth bass, American shad, perch, rock bass, bullheads and many others.  Below you'll find insider secrets to fishing the Susquehanna River.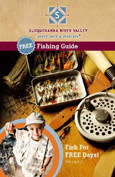 Check out our colorful Fishing Guide for all kinds of useful info.  Click here to download it or request that one be mailed to you.

1. Launch Your Excursion from One of PA's State Parks
The Milton State Park and Shikellamy State Park and Marina among many other state parks, provide boat launches in the West Branch of the Susquehanna River.  Use these locations to find great Susquehanna River Fishing spots.
2. State Parks Aren't the Only Location To Launch a Fishing Boat
Chillisquaque Access Area and Boat Ramp is located four miles north of Northumberland on Route 405.  Launch your boat, canoe or kayak and travel the river to one of the local fishing holes.
Another hidden boat launch is the Shady Nook Access Area. It's 4.7 acres of land that was donated by PPL Utilities for a public boat access in Hummels Wharf. Activities include unlimited horsepower boating, lightweight fishing boats, canoes and inflatables.
3. Sunbury's Adam T. Bower Memorial Dam Is an Ideal Fishing Location
The inflatable dam that creates Lake Augusta in the spring and summer months is one-of-a-kind.  This pristine area is an ideal Susquehanna River fishing spot during those months.
Another nearby lake, Halfway Lake at R.B. Winter State Park, is also an ideal fishing spot. The lake is fed by natural springs and is a favorite spot for local anglers.
4. Penns Creek
Penns Creek is a 66-mile long tributary of the Susquehanna River and is another favorite fishing location. This limestone-influenced stream supports strong numbers of wild Brown Trout throughout much of its length. Penns Creek is one of the most popular wild trout streams in Pennsylvania and the eastern U.S.
5. Take Advantage of Local Knowledge for Better Fishing Days
Our local fishing guides and supply stores are happy to share their knowledge of the Susquehanna River and surrounding creeks to help you plan a great trip.
Tom Prowant of Tom's Fishing Guide Service works to keep his clients safe and comfortable while having a great time exploring the beautiful Susquehanna River. Having fished the river since he was 5 years old, Tom enjoys sharing his knowledge with experienced fishers as well as those new to the sport.

Blue Heron Sports,  located at 5115 State Route 405, Milton, is a full service bait and tackle store featuring supplies and bait for all your fishing needs, including a large variety of supplies from rods and reels to live bait, and an expansive selection of fly fishing gear. 
6. HuntFishPA: New Mobile-Friendly, Outdoor Recreational Licensing Platform 
The Pennsylvania Game Commission (PGC) and Pennsylvania Fish and Boat Commission (PFBC) have announced the launch of HuntFishPA, the new user-friendly licensing platform for hunters, anglers, and boaters.  Visitors to huntfish.pa.gov will discover convenient features like personalized dashboards, autorenewal for fishing licenses, and the ability to report game and furbearer harvests as required. Users who visit the agencies' websites – www.pgc.pa.gov and www.fishandboat.com – for their licensing and other needs will be seamlessly directed to the new system. HuntFishPA replaces the previous Pennsylvania Automatic Licensing System (PALS) platform known as The Outdoor Shop
Introducing Children to Fishing!
Find out more about the PA Fish and Boat Commission's Mentored Youth Trout Day, Lunch & Learn for Little Ones, Fish For Free Days in PA plus the Fishing Tackle Loaner Program. 
For an exciting hands-on learning experience spend the day fishing on the river with an expert local guide.  Tom's Fishing Guide Service provides a fun and affordable opportunity to get out and enjoy nature and catch some fish on the beautiful Susquehanna River.