Bald Eagle State Forest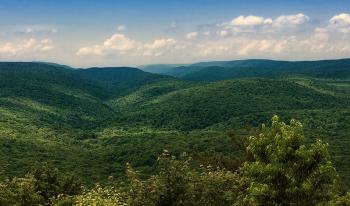 Bald Eagle State Forest includes 193,424 acres spread across the high, sharp ridges of Central Pennsylvania and features numerous tracts of old growth forest and miles of pristine mountain streams. Outdoor recreation opportunities include hiking, cycling, horseback riding, ATV riding, camping, hunting, fishing, cross-country skiing and snowmobiling. 570-922-3344 www.DCNR.PA.gov/StateForests/FindAForest/BaldEagle
Pennsylvania's state forest system includes special wild and natural areas "managed" by nature where direct human intervention is limited. Those within Bald Eagle State Forest include:
Bear Run Natural Area
Joyce Kilmer Natural Area- a 77-acre tract of virgin white pine and hemlock located on Paddy Mountain, 6 miles west of Hartleton.
Halfway Run Natural Area
The Hook Natural Area - a 5,119-acre tract located on the North Branch of Buffalo Creek, 3 miles north of Hartleton. A complete watershed is preserved in this area. Access is provided by a number of rugged foot trails.
Mt. Logan Natural Area
Snyder-Middleswarth Natural Area
Tall Timbers Natural Area
The Penns Creek Wild Area
Rosecrans Bog Natural Area
 Raymond B. Winter State Park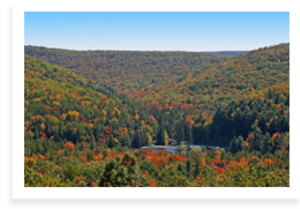 Located within Bald Eagle State Forest, R.B Winter State Park lies in the mountains west of Lewisburg. The focal point of the park is Halfway Lake which is filled by spring-fed mountain streams and contained by a hand-laid, native sandstone dam.
R.B. Winter State Park Recreation:
• Hiking - 6.3 miles of trails connect with trails in the surrounding Bald Eagle State Forest. The middle trailhead for the Mid State Trail is located in the park.
• Camping - 61 shaded sites within walking distance of all park facilities 
• Mountain Biking 
• Picnic Areas 
• Swimming and Fishing at Halfway Dam 
• Snowmobiling - park roads connect to over 300 miles of trails within Bald Eagle State Forest 
• Cross-Country Skiing  
• Ice-Fishing
• Halfway Run Environmental Learning Center - features a hands-on science area, library, native wildlife displays, bird observation window with microphone equipped feeding station and Sheary-Linn Amphitheater  
• The Park lends fishing gear, snowshoes and mountain bikes free of charge on a first come, first served basis
R.B. Winter State Park
17215 Buffalo Rd. Mifflinburg, PA 17844
570-966-1455
www.dcnr.pa.gov/stateparks/findapark/raymondbwinterstatepark