Mifflinburg, Pennsylvania
A Union County Treasure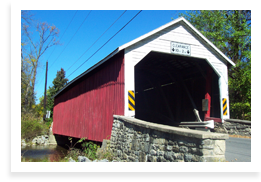 Settled in the late 1700s by German immigrants, the borough was initially two villages: Elias Youngman's town at the west end and George Rote's town on the east. Early houses were log and chink construction. Youngmanstown and Rotestown merged in 1827, renamed in honor of the first governor of Pennsylvania, Thomas Mifflin. There is a bend in the streets where the two towns meet.
In 1825, a turnpike connected Mifflinburg east to Lewisburg and Northumberland, and west to Aaronsburg and Bellefonte. The railroad connected Mifflinburg to Lewisburg in 1871, and by 1885, ran west where it met the Bellefonte and Tyrone Railroad.
Buggy manufacturing began in Mifflinburg in the 1840s and soon became an important industry, eventually supporting a large portion of the population. The town prospered in the late 1800s and early 1900s, becoming known as "Buggy Town." There were over 80 buggy, sleigh and carriage makers, producing thousands of vehicles each year, which were delivered and shipped to many states. Mifflinburg's Victorian homes reflect this prosperous development.
Many Mennonite farms and homes, where Pennsylvania German is still spoken, can be found surrounding the borough, offering farm stands, buggy and harness makers, quilts, woodworking and furniture shops.
Things to See and Do
Visit the museum complex and enjoy events sponsored by the Mifflinsburg Buggy Museum.
Plan for a fun-filled July at the Independence Day Celebration, the Blueberries and Bluegrass Festival and the week-long Fireman's Carnival.
Explore the countryside for roadside vegetable stands in summer and fall, watching for picturesque farms and buggies.
Visit nearby Penns Creek for fishing, swimming and canoeing.
Hike the Koon's Trail  through 17 beautiful acres within the borough and see the Hassenplug Covered Bridge.
Take a walking tour of historic buildings including The Little Log House, Gutelius House, Historic Elias Church and Center for the Performing Arts, and the restored Mifflinburg Hotel.
Revel in German traditions with music, shows, food, and beer at Oktoberfest!
Browse unique shops like Abe's Custom Woodworking, Artisan Corner Co-op, Olde Soul Trading Company, Pompeii Street Soap Co., The Tack Room Inc., and Penns Creek Pottery.
Enjoy a meal at one of the locally owned restaurants.
Celebrate Mifflinburg's German heritage at their annual Christkindl Market in December. Market Street is transformed into a traditional German outdoor market with pine-decorated huts filling the street. Vendors sell unique arts and crafts, jewelry and toys, plus delicious food including wursts, goulash, soups, strudels, lebkuchen and more. Musicians and street entertainers add to the fun.
Download the historic Mifflinburg Walking Tour.
How to Find Mifflinburg, PA