Susquehanna River Fly Fishing
Susquehanna River Valley Fishing Guide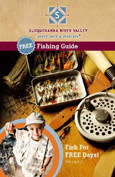 Susquehanna River Valley Fishing Guide
Regardless of the season, the natural beauty of the Susquehanna River Valley's streams, creeks,lakes, and its namesake, the Susquehanna River, invites all to explore the great outdoors.
Along with many pristine fishing areas, which this Guide will outline, the region is also home to three state parks: Shikellamy State Park and Marina, Milton State Park, and R.B. Winter State Park.

Streams and River Offer Trout and Smallmouth Bass Fishing
Penns Creek Fly Fishing
Penns Creek was voted one of  "America's Top 100 Trout Steams" and continues to be publicized due to its great fishing. The major reason why this creek is so popular is its large Green Drake hatch May through June. Penns Creek is known for its inconsistent waters ranging from still to some of the most rapid moving waters in the entire state. Penns Creek ranks among the very top in fly fishing within the state of Pennsylvania. Penns Creek is swarmed with numerous amounts of trophy sized trout.
Looking for flies designed specifically for Penns Creek? Look no further than the Penns Creek  Angler. Almost all of their flies are tied by local fishermen to match the hatches in Penns Creek.
For more info, check out these helpful websites:
For additional information, please visit the PA Fish and Boat Commission website.


HuntFishPA: New Mobile-Friendly, Outdoor Recreational Licensing Platform 

The Pennsylvania Game Commission (PGC) and Pennsylvania Fish and Boat Commission (PFBC) have announced the launch of HuntFishPA, the new user-friendly licensing platform for hunters, anglers, and boaters.  Visitors to huntfish.pa.gov will discover convenient features like personalized dashboards, autorenewal for fishing licenses, and the ability to report game and furbearer harvests as required. Users who visit the agencies' websites – www.pgc.pa.gov and www.fishandboat.com – for their licensing and other needs will be seamlessly directed to the new system. HuntFishPA replaces the previous Pennsylvania Automatic Licensing System (PALS) platform known as The Outdoor Shop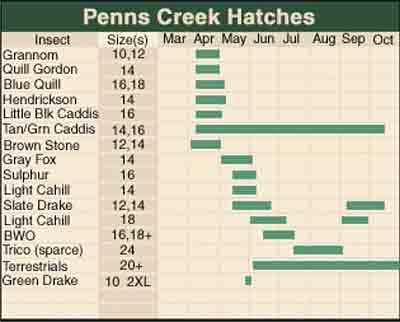 Fly Fishing Seasons on the Susquehanna River
June and July - Smallmouth are adjusting to their summer habits. Mayflies bring exciting surface action. From late July into early August, the white fly appears. This is dry fly fishing at its best. 

August - Shady shoreline and rocky areas provide daytime action. The white fly continues providing evening feeding. 

September - With the right conditions, all day surface action with poppers and hair bugs is possible. 

October - Smallmouth are at their prime. This is a good month for trophy smallmouth.