Selinsgrove, Pennsylvania
A Snyder County Treasure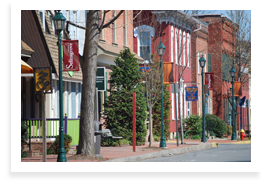 Like many communities in the Susquehanna River Valley, Selinsgrove suffered from major fires in 1872 and 1874. The razed wooden structures were replaced, in many instances, by larger multi-purpose, brick buildings. Today, many of those buildings are still in use and house some of the town's most significant and important businesses, shops, and restaurants.
Selinsgrove became an important Susquehanna River community since George Gabriel established a trading post on the Isle of Que in 1754. At the time, Native Americans were the main inhabitants of the area. John Snyder laid out the town not long after. Snyder died, and Anthony Selin, a Swiss soldier of fortune who fought in the Revolution, augmented Snyder's plan of the town.
Trade was conducted along the banks of the river, as it was the only means of transportation. In the 1820s, the Pennsylvania Canal was opened and further enhanced Selinsgrove (spelled Selin's Grove originally) as a business hub. In 1871, the Sunbury & Lewistown Railroad increased local commerce even more. An early census shows the following occupations of town residents: wagonmaker, tailor, doctor, distiller, cabinetmaker, boatman, cooper, tinker, sadler, mason, and carpenter. With an abundance of small manufacturing plants, service-related operations, and specialty businesses, Selinsgrove remains a thriving, bustling community.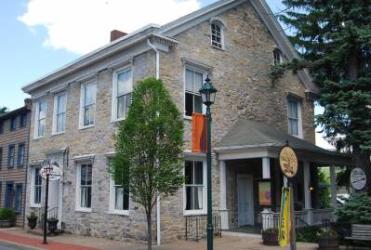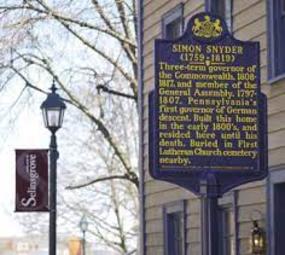 Things to See and Do
Visit the home and monument of PA's only three-term governor, Simon Snyder and enjoy a micr-brew at the Selin's Grove Brewing Company located on the ground floor of the Mansion in the governor's old kitchen. 
Enjoy New Deal Era Post Office Art in the Selinsgrove post office.
Stroll along the banks of the river or launch your boat from the river access on the Isle of Que.
Take a mini vacation-spend a night or weekend at the Selinsgrove Inn.
Join the crowd at the Selinsgrove Speedway.
Discover antique and local artisan treasures in historic shops like the Cottage on Pine.
Shop at unique boutiques and specialty shops such as Graci's Flowers & Gifts,
The Light Barn, or take a stroll around the Susquehanna Valley Mall.
Dine at a quaint eatery or coffee shop.
Support local farmers at the seasonal Farmers Market.
Enjoy annual festivals like the Hops, Vines, & Wines Festival (July 15, 2-6pm), Antiques On The Avenue, (July 9, 9am-3pm), or the Selinsgrove Market Street Festival ( Sept. 23, 8:30am-4:00pm).
Attend Selinsgrove's Rudy Gelnett Music in the Park concerts at the Town Square 
Play at Kidsgrove and inside the 'mini' downtown as well as at Everyone's Playground, PA's only all-inclusive playground located in East Snyder Park. Equipped with at least 15 activities and equipment made for children with disabilities, it's a place where children of all abilities can play together creating wonderful opportunities for children with special needs to play with other children on really fun playground equipment. 
How to Find Selinsgrove, PA