Northumberland, Pennsylvania
A Northumberland County Treasure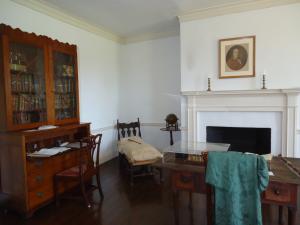 The borough of Northumberland (not to be confused with the county of Northumberland) was founded in 1772. The borough's location near the confluence of the north and west branches of the Susquehanna River influenced its development from the days of Native Americans and pioneers to its evolution into a transportation and industrial center. The appealing architecture of Northumberland's historic homes and buildings and its traditional English layout enhanced by attractive green space and parks make it a quaint and peaceful place to visit.
Robert Martin first settled in the area that became Northumberland in 1767, where he established a tavern to serve travelers. William Penn's sons, Thomas and Richard Penn, transferred four tracts of land "Sarah's Delight," "Essex," "Nottingham" and "Townside," which totaled 1,659 acres to John Lowdon and William Patterson who laid out the town in August of 1772. An enterprising Reuben Haines, a wealthy brewer, iron works owner and land developer from Philadelphia, purchased the town site about 1775 and sold lots in Northumberland, which later incorporated as a borough in 1828. Northumberland County established its first post office in Northumberland in 1795.
The hub of the Pennsylvania Canal and a major Pennsylvania Railroad center, Northumberland boomed with the activity of successful agricultural and industrial operations and grew rapidly during the 19th and 20th centuries. Various religious denominations built houses of worship in Northumberland; some have congregational history dating back to the late 1780s. Northumberland's residents have always had a strong sense of community and developed volunteer fire departments, recreation areas and a public library, and continue to serve Northumberland through various fraternal and civic organizations.
Things to See and Do
Enjoy a picnic with a Susquehanna River view at Pineknotter Park.
Get wet and wild with fun-filled water activities at Liberty Splashland, 200 Prince St.
See the New Deal-era sculpture featuring 18th-century chemist Joseph Priestley in the U.S. Post Office lobby, 75 Queen Street.
See the Northumberland Fire Co. No. 1's Pat Lyon hand pumper engine built in 1796, on display at Second and Queen Streets, the oldest piece of fire fighting apparatus remaining in the United States.
Stop by King Street Park between Front and Second Streets for a variety of community events throughout the year, including summer Pineknotter Days and Lemonade Day.
Explore Northumberland's architecture using the self-guided Historic District Walking Tour brochure.
Visit Joseph Priestley House, a National and Chemical Historic Landmark, 472 Priestley Ave.
See the Joseph Priestley Memorial Chapel, built in 1834, and memorial garden at 380 Front St.
Explore the quiet pathways in Riverview Cemetery along Seventh Street, established 1853.
Shop at the Point Barn Pantry
3169 Point Township Dr., Northumberland
570-271-1710
The Point Barn Pantry is the area's largest all Amish made goods store with furniture, quilts, toys, baked goods, canned goods, home decor items and much, much more. Also featuring daily wine tasting from a local winery; and last but not least, a two-acre lot filled with antique industrial iron for customers to browse.
2 Front St., Northumberland, PA
570-473-3626
Located in a historic 1910 "Pennsylvania" railroad passenger station, Front St. Station has been transformed into a restaurant that features lunch, dinner and banquet options for up to 300 people. House specialties include crab cakes, fresh fish, steak and Italian. Also features a cocktail lounge and outdoor dining. Kitchen is open daily from 11 AM until midnight.
Enjoy a refreshing cold beer at Pineknotter Brewing Company
254 Front St., Northumberland, PA
Located in the heart of Northumberland, Pineknotter Brewing Company offers a wide variety of carefully handcrafted brews using only all-natural ingredients. With nine creations on tap, there is surely something for every beer drinker's palate. They also carry a nice selection of locally-made wines, spirits and sodas. They are one of the first establishments in the area to carry wine on tap from Dalvino Winery. The fifty-four seat tap room is equipped with a panoramic glass-style garage door and outdoor seating on the deck. The rustic decor and historic photos throughout the tap room allow for rich conversations about Northumberland's fascinating history. Food is provided by On-A-Roll in Northumberland, voted "Best in the Valley" for their high-quality sandwiches.
How to Find Northumberland, PA