Lizards and Little League Day Trip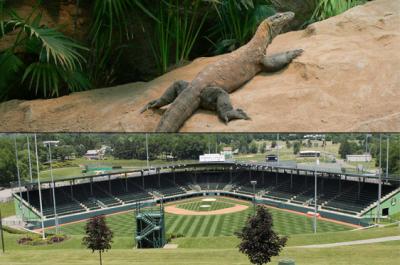 We'll bet you didn't know that right here in Central PA, you can get a first-hand look at one of the world's rarest species of reptile and then (in the same day) see the birthplace of Little League Baseball?! Well we have them both, right here!
Start the day at Clyde Peeling's Reptiland where exotic reptiles and amphibians from around the world, including mambas, cobras, vipers, pythons, rare snakes, alligators, tortoises and frogs. The exciting Island Giants exhibit features Komodo dragons, the world's largest lizards, basking in the sun and the attention! Dinosaurs Come to Life is a recreated paleontological site complete with a fossil dig. See life-sized animatronic dinosaurs on the Prehistoric Path. You can also experience—and even feed—hundreds of colorful parakeets in our walk-through aviary! Beautiful budgies fly about (and may land on you!) in this exciting and immersive experience. Enjoy the company of feathered friends, and purchase a seed stick for only $2!*
The next stop on this trip is the state of the art World of Little League Museum and Official Store in Williamsport. The museum is a celebration of Little League. The museum interweaves the story of Little League with US and world history, dynamically illustrating how Little League has become the world's largest and most respected youth sports program. Plan a trip for August to attend a game during the Little League World Series. 
For help planning your trip contact the friendly staff at the :
Susquehanna River Valley Visitors Bureau
81 Hafer Road, Lewisburg, PA  17837
Toll-free: (800) 525-7320
Phone: (570) 524-7234
Fax: (570) 524-7282
[email protected]
VisitCentralPA.org