Handmade and Homegrown Day Trip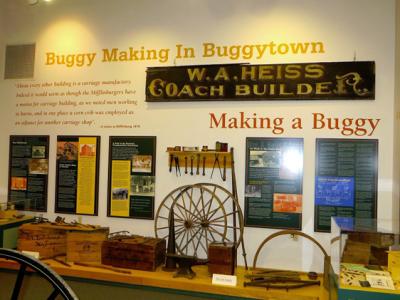 Start your day in historic Mifflinburg and explore this very delightful town which was settled in the late 1700s by German immigrants. Take the historic walking tour of Mifflinburg, which ends at the Mifflinburg Buggy Museum (pictured left). In 1855, Mifflinburg had 800 residents and 13 buggy and horse-drawn coach makers. In the 1880s, the craftsmen produced more horse-drawn vehicles per capita than anywhere else in the state, giving Mifflinburg the nickname "Buggy Town."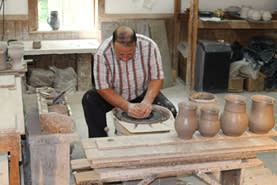 In the afternoon, discover wonderful handmade beautiful pottery at Penns Creek Pottery, (pictured at right) you may get a chance to see the owner, Bill, and his assistants crafting fine quality stoneware and porcelain pottery before wood-firing it on the spot. Next, visit Pompeii Street Soap Company, where handcrafted natural products are also produced on site.
A visit to the Artisan Corner Co-op, a delightful shop featuring local juried artists, and Abe's Custom Woodworking is well worth your time.  Railside Furnishings showcase of the best designs in solid handcrafted Real. Wood. Furniture.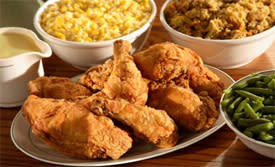 Nothing gives you that comforting feeling of home more than a delicious homemade dinner. Be sure to wrap up your day with a trip to Mifflinburg Hotel
For lighter fare, enjoy fresh brewed coffee - hot, iced or blended – and lunch items while discovering handmade treasures from PA artisans at  45W Art & Cafe.
Or if craft beer is more your style, the Rusty Rail Brewing Company is Pennsylvania's largest brewpub, and proudly offers a one-of-a-kind dining atmosphere. With stunning attention to detail and dedication to local history, the Rusty Rail is located in a restored historic building that includes several hand-painted murals and restored Ford trucks from the early 1900s that were built in the building. The first level of the brewpub features the main bar, main dining area, All Seasons Room and outdoor Beer Garden with Bavarian-style beer tables and a rustic, gas forge fireplace. The second level houses our Game Room, complete with 1923 Brunswick pool tables, shuffleboard, foosball, darts, video game tables, board games, six big-screen TVs and another full-service bar. Luxury Suites at the Rusty Rail are on the third floor. Each room features a full living area, large bathroom, TV, free wi-fi and a large island for guests to gather and enjoy the Rusty Rail.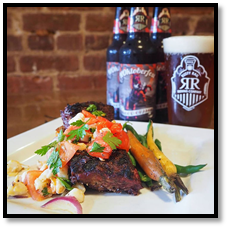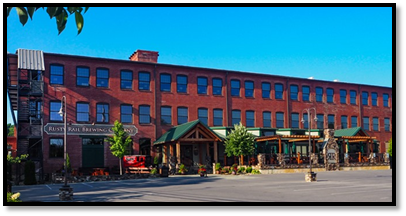 For help planning your trip contact the friendly staff at the
Susquehanna River Valley Visitors Bureau
81 Hafer Road, Lewisburg, PA  17837
Toll-free: (800) 525-7320
Phone: (570) 524-7234
Fax: (570) 524-7282
[email protected]
VisitCentralPA.org