Exotic Cats in Central PA Day Trip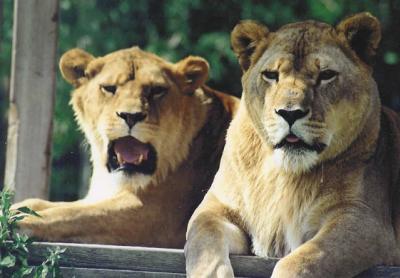 Kids will be kids and yours will have a wonderful time immersed in the natural wonders of the Susquehanna River Valley. Did you know that right here in Central PA you can come within feet of lions and exotic wildlife from all over the world? Check out this great trip idea below that is sure to be a day you and you're family will never forget!
After you arrive in the Susquehanna River Valley, head for T&D's Cats of the World (Pictured above), one of the most interesting and unique places in Pennsylvania. More than 200 rescued bobcats, lions, tigers, leopards, and other exotic wildlife live on 35 spacious acres. They just rescued five new tigers in the 2020 season. 
Then make your way toward Shamokin Dam for some family recreation at Hooplas Xtreme Family Fun where you'll find a trampoline park, Sky Rail Ropes Course, Toddler Zone, arcade, mini-bowling  and miniature golf.

Make a pit stop for lunch Skeeter's Pit BBQ! Skeeter's is a family-owned fast, casual dining establishment with seasonal outdoor dining, local craft beers on tap, live music every other Sunday and it's located on a bluff overlooking the scenic Susquehanna River.
After lunch, choose your activity based on your time, interests and energy levels. We suggest driving north to Lewisburg. Listed on the National Register of Historic Places, Lewisburg's vibrant downtown features more than 40 specialty retail stores, friendly restaurants, museums, and the Campus Theatre, an authentic Art Deco movie palace showing movies nightly. Lewisburg is a friendly walkable downtown with a self-guided tour of historic Lewisburg.
The Lewisburg Children's Museum provides hours of interactive educational fun.Exhibits include Space & Science (complete with a spaceship) where children move throughout the room as scientists and engineers, learning about physics, energy, electricity, and more. Explore the farmyard garden, farmer's market, grocery store and play café; Dr. K's Teddy Bear Clinic, Bodyworks, a life size game of operation, and the ball pit rendition of the human digestive system. There's a Tree House and the Creation Station full of art supplies and a performance arts area.
Let the kids get their wiggles out at the newly renovated Hufnagle Park and Playground. Located at 5th and Market Streets, the park offers a gazebo with event seating, streamside greenspace, picnic area & benches, state of the art playground and nature play area, and walking path and restrooms, all located in the heart of downtown Lewisburg.
Or you can let off some steam by renting bikes from Link Cyclery LLC, to explore the 9-mile-long Buffalo Valley Rail Trail, or visit the park and playground on St. Mary's Street with a skateboard park, tennis courts, pool, interactive playground, volleyball pit, basketball court and ducks to feed!
Do you feel like a leisurely walk in the woods? Located just minutes from downtown, the The Dale's Ridge Trail at 1471 Strawbridge Road, off Route 192 next to the historic Dale/Engle/Walker House is a two-mile trail loop trail. A trailhead kiosk contains a descriptive brochure specific to the property, which borders Buffalo Creek. Enjoy scenic ridge-top views of the Buffalo Valley, wildflowers, and birding within a variety of habitats including streamside (riparian) buffer, mature woodlots, and open fields.
Fun sweet treats can be found at Purity Candy. Founded in 1907, Purity candies are hand-dipped the old-fashioned way. The Cookie Dude specializes in artisan cookies and desserts crafted by hand in a variety of traditional and unique flavors using only fresh, local and gourmet ingredients. Sweet Frog is a premium frozen yogurt shop with 16 flavors and 70 toppings to create personalized combinations.
Among other shops in downtown Lewisburg visit:
Brushstrokes Gallery, Art Supplies, & Framing offering a full array of the best and latest art supplies and a knowledgeable staff, Brushstrokes works to help their customers create their visions. In addition, they have a wonderful selection of artsy greeting cards, journals, puzzles and gifts for all ages to appeal to the art lover in everyone.
The Open Door Gallery by Lori. The gallery showcases works of art and offers custom framing and restoration services for frames, photos and paintings. Located in the same space is Mondragon Books, a treasure house of used books and a fun collection of children's books.
If art is your pleasure, visit the Samek Art Museum's downtown gallery, a program of Bucknell University that creates meaningful encounters between artists, students, scholars, the public and works of art. The downtown gallery is a secondary location to the main gallery located on the campus of Bucknell university.
We recommend dinner at one of the many favorite local restaurants located in Lewisburg's downtown: the Lewisburg Hotel, Siam Restaurant (Thai & Indian cuisine), Brendan's Towne Tavern,  Bull Run Tap House, Elizabeth's An American Bistro, or Mancini's Wood Fired Pizza & Italian Restaurant.
For after dinner drinks try the Hungry Run Distillery, creators of unique spirits, flavored vodkas, whiskey, bourbon and more. Or relax at upscale Trevina, a unique bar with 50+ self-pour taps including craft beer, cider, seltzers, prosecco, red wine and white wine.
More animal adventures can be found at:
Clyde Peeling's Reptiland, a world-class zoo specializing in reptiles and amphibians from around the world! Enjoy modern indoor exhibits of over 40 species year-round. During warmer months, experience life-size animatronic dinosaurs and hundreds of colorful parakeets in seasonal exhibits. Stunning naturalistic habitats, fun interactive exhibits, live shows and hands-on animal encounters make Reptiland an educational adventure for the whole family!
Lake Tobias Wildlife Park -  Experience the wild with hundreds of animals from around the world. Guided Safari Tours roam over 150 acres of rolling hills with herds of animals, flightless birds and giraffes. Encounter the exotic in the zoo exhibits and the Reptiles & Exotic facility. Visit the new museum and education center.
For help planning your trip contact the friendly staff at the
Susquehanna River Valley Visitors Bureau
81 Hafer Road, Lewisburg, PA  17837
Toll-free: (800) 525-7320
Phone: (570) 524-7234
Fax: (570) 524-7282
[email protected]
VisitCentralPA.org