Crossroads of History Day Trips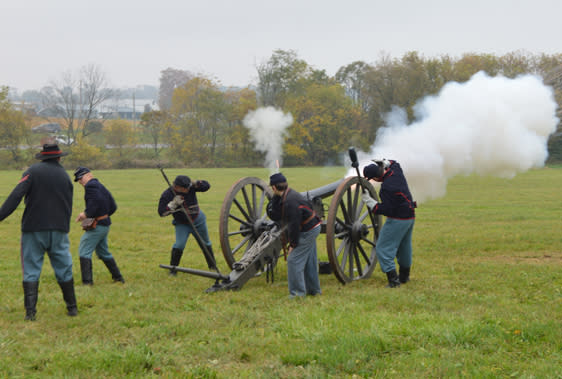 The Revolutionary War was over. The soldiers were ready to return home, settle down, and begin new lives. Northumberland County and the Pennsylvania frontier, with its good soil, expansive Susquehanna River and lush forests were ideal locations to bring brides, build communities and raise children. Check out these great day trip ideas to learn some great historic facts about Central PA that will be sure to impress even the most serious of history buffs!
Native American Paths Driving Tour Day Trip
Spend the day on our Self-Guided driving tour that will take you on the trail of the first settlers of the Susquehanna River Valley. Bucknell University Professor Katie Faull's research into the story of Moravian settlers inspired the Native Paths Driving Tour, which leads visitors on a journey of discovery along the shores of the Susquehanna River. Along the way, stop for lunch at Skeeter's Pit BBQ in Shamokin Dam, and take in the view at the Shikellamy Overlook just across the river in Sunbury, where you'll get a panoramic view of the confluence of the North and West branches of the river.
Click here or the photo to the left to download the brochure and start planning you trip today!

Heritage Trail Day Trip
Set out on the Heritage Trail! When you come to the Susquehanna River Valley, you may feel as if you've stepped back in time - a time when the pace of life was a little slower and neighbors knew one another. While here, take some time to indulge your senses. Our Heritage Trail Brochure (pictured at right) is the perfect tool to guide you to discovering all the rich history our region has to offer!
Listen to the clip-clopping of horses and buggies as they hasten from countryside to town to sell their produce and wares. Squeeze and smell the fresh produce at roadside stands and farmers markets. Observe history that's alive and thriving in realistic reenactments, museums, heritage festivals, and educational experiences. Touch colorful quilts that took months to craft by hand. Taste our local specialties, such as whoopie pies, potpie, and apple butter. Whether you're following the winding curves of our river or roads, you'll discover a treasure at every turn.
Click here or on the brochure to the right to download a PDF version or request a hard copy to help you start planning your Heritage Trail trip!
For help planning your trip contact the friendly staff at the
Susquehanna River Valley Visitors Bureau
81 Hafer Road, Lewisburg, PA  17837
Toll-free: (800) 525-7320
Phone: (570) 524-7234
Fax: (570) 524-7282
[email protected]
VisitCentralPA.org