Plan the Ultimate Guys Night(s) Out!
OK guys! Here you are! Get ready for a "Man's" weekend, complete with lots of action, brew pubs, golf and/or other outdoor activities, and, of course, great food. This is the Ultimate Boys' Night Out, stretched into an extended weekend. Arrive back home exhausted but exhilarated with stories that last a lifetime. You and your friends will be talking about this trip 10 years from now!
Day One
Your adventure begins the minute you hit the Susquehanna River Valley on a kayak trip with Bic's Watersports and Outdoor Adventures. Bic's kayak/canoe rental provides transportation to designated drop-off locations on the Susquehanna so patrons can enjoy some relaxing time on the water. Get ready to enjoy the broad reaches of this beautiful river, which is the longest on the East Coast. If you happen to stop by the Shikellamy State Park Marina, you'll be at the confluence of the Susquehanna River, the only place that the North and West Branches of the Susquehanna River meet. Nearby is Lake Augusta, the body of water created by the Adam T. Bower Dam, the longest inflatable dam in the world! When the dam is fully inflated it raises the water level at least eight feet and affords 4 miles of unhindered boating, water skiing, fishing, and good old-fashioned guy stuff. A pontoon boat and kayak rental concession is located at the Shikellamy State Park Marina.
For dinner we recommend eating at Jackass Brewery, Lewisburg's newest brewery. "Life is too short for bad beer and boring nights at home on the couch. Jackass is here to change that. The Jackass Brewing Company brings farm fresh, locally sourced food to a menu of ridiculously good and irreverently named beers, plus corn hole boards, summer movies, outdoor dining, a fire pit along with great food and fun! Other downtown restaurants include
Mancini's Wood-fired Italian Restaurant
Elizabeth's An American Bistro
For after dinner drinks try the Hungry Run Distillery, creators of unique spirits, flavored vodkas, whiskey, bourbon and more. Or relax at upscale Trevina, a unique bar with 50+ self-pour taps including craft beer, cider, seltzers, prosecco, red wine and white wine.
From there, it's a short drive (or walk if you have enjoyed a few too many great beers) to your accommodations at one of Lewisburg's downtown inns. Pineapple Inn known for its world-famous homemade country breakfast, the Lewisburg Hotel with its Cameron Bar and Lounge with over twenty varieties of domestic and imported beers, including twenty drafts on tap and a selection of bottled beers and the Tawsty Flower, offering rooms with private baths, flat screen TV and high speed WiFi throughout and the Haines Suites . The Haines Building offers 5 fully furnished suites all with full private baths and 4 with fully equipped kitchens. All suites include high speed WiFi, flat screen cable tv, off street parking, and all are located in the center of town. 
Sleep soundly—you have a full day of activity tomorrow!
Day Two
Up and at 'em, bright and early today! Eighteen holes of golf at Knoebels Three Ponds Golf. Nestled at the base of a pine and hardwood-covered hillside just 1/2-mile from Knoebels Amusement Resort, Three Ponds Golf Course boasts four sets of tees appealing to players of all abilities. The semi-private club is a regulation 18-hole, par 71 golf course rated 70.1 from the blue tees with a slope of 127.
After 18-holes head to the Nickle Plate Bar and Grill. You worked up an appetite out on the course so grab a great burger, fries & an ice-cold beer with a fantastic view of the course.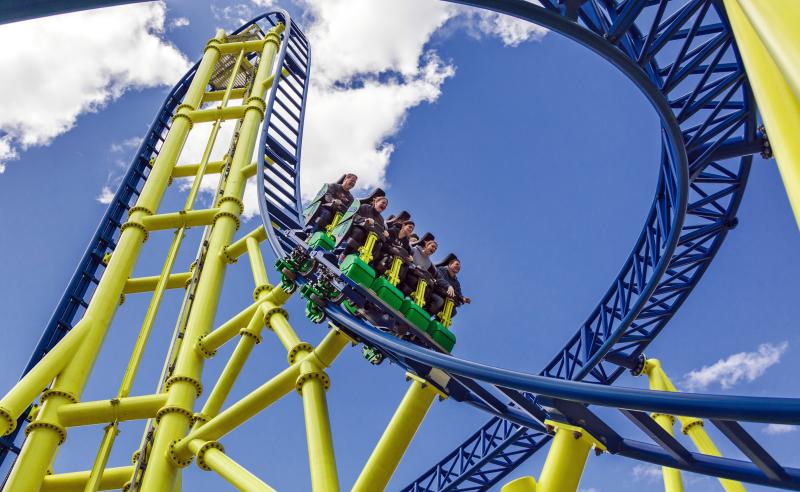 After lunch, go fast and go vertical. Take a ride on Knoebels Amusement Resorts award-winning rollercoasters. The Impulse gives an unforgettable rush with its vertical lift hill, cobra roll, a zero g roll, 4 upside down twists and a 90 degree free fall. Other coasters include three wooden coasters - the Twister, the Phoenix, Flying Turns, and 2 wild & wet rides the Sklooosh and the Giant Flume.  For a stomach dropping free-fall the StratosFear will lift you to the top of a 148-foot tower. Take in a scenic view of the entire park before you drop into a free fall reaching speeds of up to almost 50 mph!
Day Three
Go underground at Penn's Cave and Wildlife Park. Penn's Cave is America's only all water cavern and your tour is by boat. Then tour the Wildlife Park, which is home to American Bison, Texas Longhorn cattle, Timber wolves, bobcats, Bighorn sheep and mountain lions.
Whew! What an afternoon that was! You can follow it up with dinner at Rusty Rail Brewing Company.