It's a delightful day in the rural Susquehanna River Valley. A gentle breeze is fluttering the leaves on sunlit trees. You're on the back roads, slipping through covered bridges, visiting farms and watching artisans create products that have been made here for generations — pottery at Penn's Creek Pottery, candles at Star Hollow Candle Company, candy at Purity Candy, and so much more. If this sounds like your idea of fun, then the suggested trip ideas below will be the perfect tool to help you plan a day trip, weekend getaway, or maybe even an extended stay here in the Susquehanna River Valley!
Full Day
Start your day in historic Mifflinburg and explore this very delightful town which was settled in the late 1700s by German immigrants. Take the historic walking tour of Mifflinburg, which ends at the Mifflinburg Buggy Museum (pictured above). In 1855, Mifflinburg had 800 residents and 13 buggy and horse-drawn coach makers. In the 1880s, the craftsmen produced more horse-drawn vehicles per capita than anywhere else in the state, giving Mifflinburg the nickname "Buggy Town."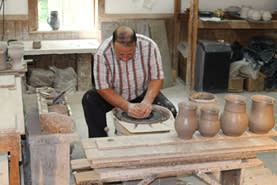 In the afternoon, discover wonderful handmade beautiful pottery at Penns Creek Pottery, (pictured at right) you may get a chance to see the owner, Bill, and his assistants crafting fine quality stoneware and porcelain pottery before wood-firing it on the spot. Next, visit Pompeii Street Soap Company, where handcrafted natural products are also produced on site.
A visit to the Artisan Corner Co-op, a delightful shop featuring local juried artists, and Abe's Custom Woodworking is well worth your time.  Railside Furnishings showcase of the best designs in solid handcrafted Real. Wood. Furniture.
Nothing gives you that comforting feeling of home more than a delicious homemade dinner. Be sure to wrap up your day with a trip to Mifflinburg Hotel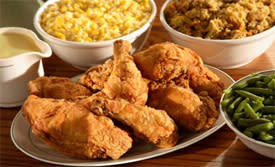 For lighter fare, enjoy fresh brewed coffee - hot, iced or blended – and lunch items while discovering handmade treasures from PA artisans at  45W Art & Cafe.
Or if craft beer is more your style, the Rusty Rail Brewing Company is Pennsylvania's largest brewpub, and proudly offers a one-of-a-kind dining atmosphere. With stunning attention to detail and dedication to local history, the Rusty Rail is located in a restored historic building that includes several hand-painted murals and restored Ford trucks from the early 1900s that were built in the building. The first level of the brewpub features the main bar, main dining area, All Seasons Room and outdoor Beer Garden with Bavarian-style beer tables and a rustic, gas forge fireplace. The second level houses our Game Room, complete with 1923 Brunswick pool tables, shuffleboard, foosball, darts, video game tables, board games, six big-screen TVs and another full-service bar. Luxury Suites at the Rusty Rail are on the third floor. Each room features a full living area, large bathroom, TV, free wi-fi and a large island for guests to gather and enjoy the Rusty Rail. 
Make it a Weekend
Day One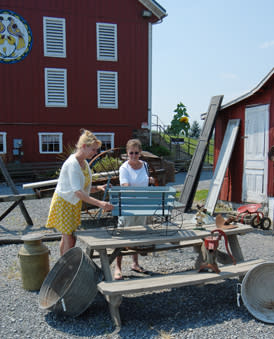 First on the agenda is a leisurely drive through more of our lovely valley. Stop at Purity Candy in Allenwood for old-fashioned hand-dipped candies, and then at Four Friends Winery for a wine tasting. Continue north to visit Clyde Peeling's Reptiland. What began as a young boy's dream has grown into an AZA accredited zoo with stunning habitats created on-site, interactive exhibits, live shows, hands-on encounters, and exciting events. Clyde Peeling also published his book, Reptiland: How a Boyhood Dream became a Modern Zoo which is available for purchase in the Natural Selections Gift Shop, a unique destination in itself! With more than 60 lines of merchandise and over 1,000 different items, the gift shop sells beautiful handmade jewelry, unique fair trade gift items, and rare high-end African art as well as toys, books, educational and souvenir items to remember their trip to the zoo.
For a visit with cute and cuddly creatures visit Country Vale Alpacas. Meet, feed and pet the alpacas, as well as learn about their lifestyles and interact with them. Then purchase an amazingly soft scarf or hat or pair of cozy socks in the farm store.
Head to Watsontown for dinner at the Historic Watson Inn (c: 1857) or eat Italian at Ciro's Ristorante, specializing in Neapolitan cuisine, the vast menu also includes seafood, steaks, poultry, veal, sandwiches, pizza, pasta, salads and appetizers. Or choose from one of the many other SRV restaurants and then stay for the evening in one of our quaint B&Bs or nearby hotels!
Day Two
The next morning head out on a very scenic drive south along the river to Millersburg where you can explore the Ned Smith Center for Nature and Art. The Center features a permanent collection of Smith's artwork along with changing exhibits of other contemporary artists and photographers. As you leave Millersburg, you'll cross the Susquehanna River on the Millersburg Ferry, the last operating ferry on the river and a fun adventure in itself.They will transport you and your vehicle across the scenic Susquehanna River.
Heading north again, visit Selinsgrove. Pick-up lunch from a downtown restaurant, then cross the Pine Street Bridge to the Isle of Que for a picnic by the Susquehanna River. Take a leisurely stroll along the banks of the river to explore the isle which is only a half-mile wide and five and a half miles long. The isle exudes a mystical quality first recognized by the Native Americans who considered the southernmost tip to be sacred land; it became their burial ground. Today you can still find Native American artifacts there. The Isle of Que is also a wonderful place to bike, fish, or if you have your own boat, you can launch it into the river at Selinsgrove's newly-renovated public landing which is equipped with restroom facilities and picnic tables. Or stay in town and picnic at The Commons, a beautiful park in downtown Selinsgrove which is also the hot spot for live music in the summer. On Saturday mornings from mid-May through November, Amish and local farmers arrive at the Commons to sell seasonal fruits and vegetables, sustainably raised meats and cheese, baked goods, plants, honey, jams and jellies at the Selinsgrove Farmers' Market.
From the website of Selinsgrove Projects Inc, you are welcomed to "step back in time at the Selinsgrove Post Office to view New Deal Art: a stunning 1939 mural painted by George Rickey. Dramatically gracing the northern wall of the lobby and nearly life-size, the painted farmer looks as though he's ready to walk into the room and join the waiting customers.
For sheer idyllic pleasure, take a stroll on the Susquehanna University campus at dusk. In spring and summer the flowers and foliage bloom and provide cover for all manner of little creatures – rabbits, chipmunks, groundhogs – you name it. Clearly, it's one of the most beautiful campus' in the country.
With the Lore Degenstein Art Gallery, the Degenstein Theatre and the Weber Chapel Auditorium, it's the cultural hub of the town. Throughout the year, you can enjoy eclectic and classical entertainment — concerts, plays, dances, exhibits, readings — many of which are free to the general public." Visit their website, Arts & Events on Campus for a schedule of events.
Extend Your Vacation
If you are not ready to say goodbye, then stay another day and visit the rest of our wineries and taste the delicious varieties of award-winning wines grown and pressed right here in the Susquehanna River Valley. Click here to download a brochure that lists all our wineries to help you plan your wine-tasting excursion.
Stay for the Week!
Day One
Day Two

Day Three
Day Four
Day Five
Wine Tasting Tour- Enjoy the beautiful scenery of the Susquehanna River Valley on a tour of wineries. Stroll through a vineyard surrounded by glorious views, relax on the deck while enjoying local musicians and enjoy tastings of favorite locally crafted varieties. The Susquehanna River Valley is home to eleven family-owned wineries, all of which offer unique vintage wines, fun seasonal events and beautiful picturesque settings.
River Rat Brew Trail - Treat yourself to a self-guided tour of the award-winning breweries on Central Pennsylvania's only craft brew trail. Discover distinct and unique craft brews that will tantalize your taste buds and senses. Click here to learn more about the Breweries and Distilleries of the Susquehanna River Valley
Let a driver from one of the premier limo companies in the River Valley provide a fun and safe tour.
Central PA Limousine & Car Service, LLC
Susquehanna Valley Limousine Inc.
For more help planning your trip contact the friendly staff at the
Susquehanna River Valley Visitors Bureau
81 Hafer Road, Lewisburg, PA  17837
Toll-free: (800) 525-7320
Phone: (570) 524-7234
Fax: (570) 524-7282
[email protected]
VisitCentralPA.org