Crossroads of History Road Trip
The Revolutionary War was over. The soldiers were ready to return home, settle down, and begin new lives. Northumberland County and the Pennsylvania frontier with its good soil, expansive Susquehanna River, and lush forests were ideal locations to marry, raise children, and build communities. And build they did! Northumberland and Sunbury were founded in 1772. Selinsgrove was established in 1787, Lewisburg in 1784, and Mifflinburg, or "Buggy Town," in 1792. These lovely towns thrived and became, in true Pennsylvania style, the locations of excellent colleges and universities. Historic districts and tree-lined streets have been preserved through the ages and today this Crossroads of History is ready for you to discover, explore, and enjoy!
Full Day
Spend the day on our self-guided driving tour that will take you on the trail of the first settlers of the Susquehanna River Valley. Bucknell University Professor Katie Faull's research into the story of Moravian settlers inspired the Native Paths Driving Tour, which leads visitors on a journey of discovery along the shores of the Susquehanna River. Along the way, stop for lunch at Skeeter's Pit BBQ in Shamokin Dam, and take in the view at the Shikellamy Overlook just across the river in Sunbury, where you'll get a panoramic view of the confluence of the North and West branches of the river.
Make it a Weekend
As soon as you arrive, stretch your legs and get acclimated on a self-guided Historic Walking Tour of Sunbury that encompasses 225 years of history. Strategically located on the banks of the Susquehanna River, Sunbury was the location of Fort Augusta, one of the most important Pennsylvania frontier forts.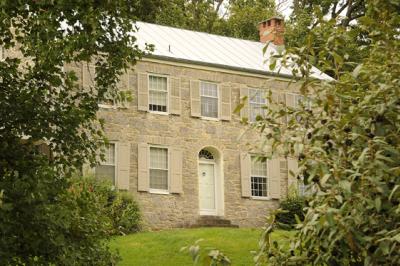 After the tour, it's a short drive to the town of Northumberland to enjoy dinner at the Front Street Station, located in the original restored railroad station that once welcomed 18 trains a day. Then enjoy a well-deserved night's rest in one of our quaint B&Bs or hotels.
The next morning, head to the charming town of Lewisburg where you'll enjoy a walking tour of the historic downtown and its surrounding neighborhoods. Browse at Lewisburg Downtown Partnership Shops before stopping for lunch at the Bull Run Tap House.
After lunch,  relax and enjoy browsing artwork at the Samek Gallery on the campus of Bucknell University and at the Samek's Downtown Gallery. Be sure to enjoy the Poetry Path – a walking tour of historic downtown Lewisburg and Bucknell that offers visitors a chance to read and hear recordings of poems by living poets, recited in the poets' own voices.
If time and schedule allows, tour the Dale/Engle/Walker House (pictured at above), a Georgian stone house built in 1793 that served as an actual stop along the Underground Railroad. Cap the day off with dinner at the Lewisburg Hotel, one of the most delightful historic structures in town. The elegant, restored Victorian property has been welcoming guests since 1834.
Stay for the Week!
Day One
•    Self-guided historic walking tour of Sunbury 
•    Fort Augusta Museum and Hunter House
•    Dinner at Front Street Station Restaurant
 
Day Two
•    Dale/Engle/Walker House
•    Dinner at the Lewisburg Hotel
•   Campus Theatre -Historic Art Deco Movie Theatre
 
Day Three
•    Native American Paths Driving Tour
 
Day Four
•    Self-guided historic walking tour of Mifflinburg
•    Mifflinburg Buggy Museum
•    Lunch at Rusty Rail Brewing Company
Spend some time browsing in the numerous shops in downtown Mifflinburg which is experiencing revitalization. New shops include Oma's Antique Emporium, the Artisan Corner Co-op (a delightful shop featuring local juried artists), and Abe's Custom Woodworking is well worth your time. Enjoy fresh brewed coffee - hot, iced or blended – and lunch items while discovering handmade treasures from PA artisans at 45W Art & Cafe. Before heading out of town, a stop at Gable House Bakery is a must, where the case is filled with baked from scratch goodness including delectable cupcakes, cake pops, and cheesecakes, gooey sticky buns, scones, and muffins.
For help planning your trip contact the friendly staff at the
Susquehanna River Valley Visitors Bureau
81 Hafer Road, Lewisburg, PA  17837
Toll-free: (800) 525-7320
Phone: (570) 524-7234
Fax: (570) 524-7282
[email protected]
VisitCentralPA.org