Day One – Spend a relaxing day in the charming town of Selinsgrove, home to Susquehanna University.
Settled in 1754, Selinsgrove was once an important trading post on the Susquehanna River. Today you'll find it a quaint, delightful town. A leisurely stroll of downtown takes you past the stately Governor Snyder Mansion, which was built in 1816. Seibert Hall, which some believe to be the most beautiful building in town, dates from 1902. Continue your walk on the campus of  Susquehanna University where Selinsgrove Hall, dated back to 1858, once housed the entire university, which in 1905 became one of the nation's first co-educational colleges. Susquehanna University's Blough-Weis Library houses the Jane Conrad Apple Rare Books Collection. This collection, housed in the elegantly appointed Rare Books Room, focuses on the life and works of William Shakespeare and the Elizabethan and Tudor periods. The collection includes a number of first and limited editions as well as rare books from the 16th, 17th and 18th centuries, including works by Chaucer, Donne and Richard Hooker. The collection also contains manuscripts, musical scores, theater programs and hand-made, letter-press books of poetry.  Also located in the library, the Russell Gilbert Pennsylvania German Collection offers rich resources in Pennsylvania German Language, Literature, and History. The collection is housed in the Pennsylvania Room that features a beautiful fan-window overlooking University Avenue.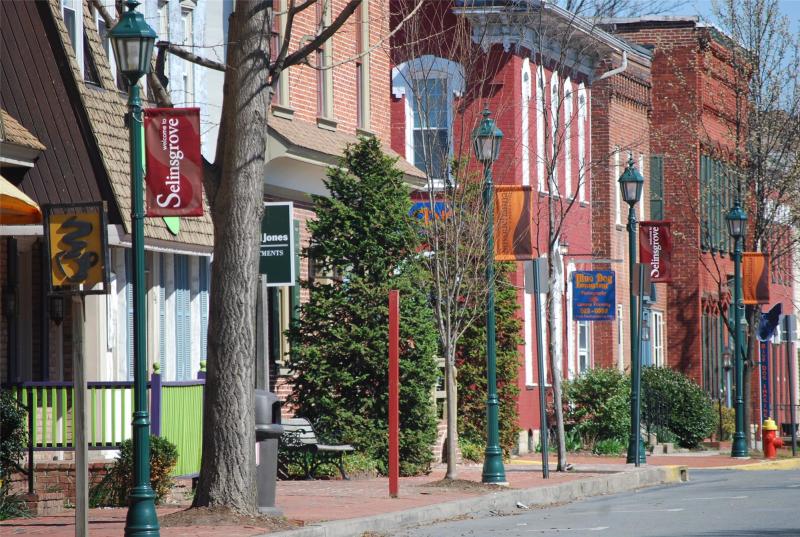 Like so many other historic towns of the time, Selinsgrove suffered major fires in 1872 and 1874, which necessitated the replacement of many wooden structures with brick buildings. Today, these buildings are cheerfully occupied by shops, businesses, and restaurants.
Downtown Selinsgrove has an eclectic shopping selection. Whether you're looking to purchase art, antiques, jewelry, or vintage, hip, boutique clothing, you'll enjoy browsing in Selinsgrove.
The Commons, a lovely park in downtown Selinsgrove, serves as the centerpiece for town. Beautiful urns overflowing with flowers are situated throughout the park during the spring and summer. On Thursday nights throughout the summer, bands rock the pergola and on Saturday mornings, local farmers sell fresh, delicious fruits and vegetables.
Within walking distance to the downtown, the Isle of Que along the Susquehanna River is a wonderful place to cycle, launch your kayak or take a leisurely stroll along the river.
Fine dining in historic downtown Selinsgrove includes Isabella Restaurant and Cocktail Lounge featuring authentic Italian cuisine, seafood, beef, chicken and veal entrees, appetizers, desserts and cocktails in an elegant setting. This classy restaurant is housed in a former bank building. Live piano music on Saturdays elevates the atmosphere.
Another choice for dining is BJ's M Street Tavern & Oyster Bar. Popular for their seafood, all purchased fresh and sourced from coastal fish mongers, BJ's also boasts a full Oyster Bar, with oysters and clams from the clear cold waters of New England. BJ's is also known for their Chicago steaks; house dry aged the traditional way with a mininum of 30 days to achieve naturally intense beef flavor and tenderness; well marbled and hand cut in house; then dusted perfectly with their own seasoning mix and cooked to perfection. Rounding out the menu are salads, appetizers and handhelds plus a full selection of classic cocktails each one hand crafted and prepared with premium spirits, fresh squeezed fruit juices and all natural ingredients.
No matter what time you feel like having dinner tonight, you'll find what you're looking for in Selinsgrove.
Day Two – Head north to explore the river towns of Sunbury, Northumberland, Lewisburg and Milton. Take in historical sites and a visit to a nationally recognized reptile zoo.
In the morning travel north along the Susquehanna River. First up is a self-guided historic walking tour of Sunbury. One of a very few historic towns that did not suffer the devastation of fire or flood, Sunbury boasts 225 years of architecture and history. The Hunter House, built in 1852, stands on the site of Old Fort Augusta, which was strategically important during the French & Indian War and the Revolutionary War. Continuing onto Northumberland, a drive through the Shikellamy State Park Marina delivers wonderful views of the confluence of the North and West branches of the river. This is one of our Top 20 River Spots and is a popular place for boating, fishing, and nature watching.
The Joseph Priestley House was home to the Unitarian minister who discovered that the plants in his laboratory were releasing gases into the air—namely oxygen (which he called thin airs). Today, the Northumberland property is a National Historic and Chemical Landmark and a mecca for people interested in the early days of chemical research.
After lunch in Lewisburg, plan to visit Fero Vineyards and Winery to taste their award winning selections or continue further north to Four Friends Winery. Nearby, the Milton historic downtown walking tour highlights the history of the town on 14 commemorative displays. A walking mural tour highlights façade murals celebrating a number of wonderful original buildings.
At the end of day, if you choose to visit Clyde Peeling's Reptiland in Allenwood, plan to have dinner in Watsontown at Ciro's Ristorante Italiano or the Watson Inn.
Day Three – Explore more in Lewisburg and Mifflinburg, see historic covered bridges and take a mini-winery tasting tour.
Start the day with a scenic "Wine, Antiques, Shopping and Covered Bridges Tour" of the Susquehanna River Valley. Begin with satisfying your inner shopper and browse the antique shops in Lewisburg. Continue onto Mifflinburg where a stop at the Pompeii Street Soap and Aromatherapy Company is in order. A purveyor of handcrafted natural bath and body products made on-site, the shop will fill you with a sense of well-being and luscious aromas. Downtown Mifflinburg is experiencing revitalization and browsing new shops like Oma's Antique Emporium, the Artisan Corner Co-op (a delightful shop featuring local juried artists), and Abe's Custom Woodworking is well worth your time. Enjoy fresh brewed coffee - hot, iced or blended – and lunch items while discovering handmade treasures from PA artisans at  45W Art & Cafe. Before heading out of town, a stop at Gable House Bakery is a must, where the case is filled with baked from scratch goodness including delectable cupcakes, cake pops, and cheesecakes, gooey sticky buns, scones, and muffins.
Then browse Railside Furnishings showcase of the best designs in solid handcrafted Real. Wood. Furniture. before proceeding through the covered bridges west of Mifflinburg and any or all of another five covered bridges in Snyder County.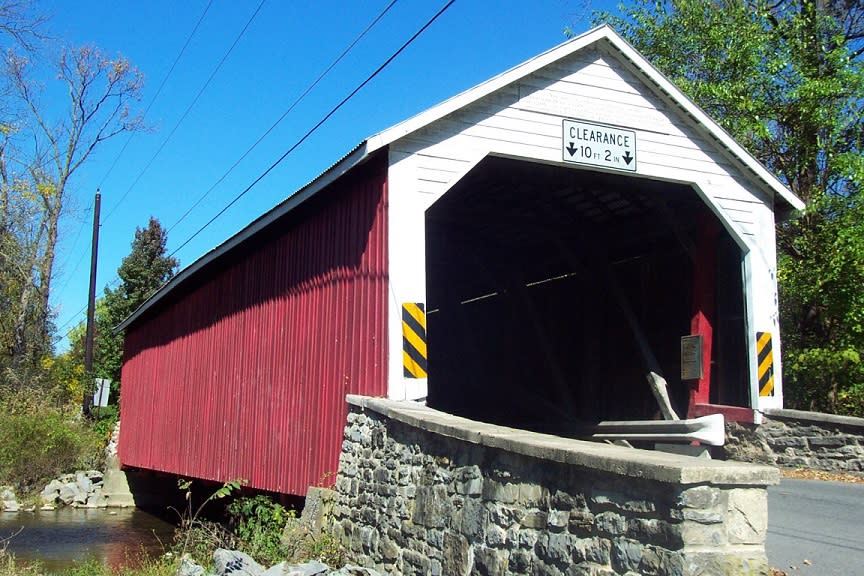 As you travel further south, take a mini-winery tasting tour. Stop for a tasting at Shade Mountain Winery a family-owned and -operated 70-acre vineyard with more than 30 varieties of grapes from which all the award-winning wines are made. Continue to the Winery at Hunters Valley and to enjoy great times, great wines and a spectacular view overlooking the Susquehanna River Valley. Then head to Buddy Boy Winery in Duncannon. Sample favorite wines and tasty food made in their artisan wood-fired oven. From wood-fired pizza to pork chops, wings and ribeye steaks, your tastebuds will thank you for the experience! Time your visit for live music - there's nothing better than live music with a picturesque background and some PA wine. Head back north to Millersburg where you can catch the historic Millersburg Ferry. They will transport you and your car across the river. Listed in the National Registry of Historic Sites, the ferries are the last known wooden double stern-wheel paddle boats still operational in the USA. With a fleet of two boats, The Roaring Bull V and The Falcon III, the Millersburg Ferry Boats are the only ferries still in service along the whole 464-mile-long Susquehanna River. After experiencing a unique ride through time you can enjoy one more tasting at Broad Mountain Winery and Cidery in Elizabethville. They produce over 20 wines and over 15 varieties of cider a year and host live music.
Day Four – Visit Snyder County's popular outdoor recreation site, Faylor Lake, see rescued and rehomed exotic animals, visit a pottery shop and have dinner in a unique regional craft brewery.
After breakfast, take some time for a relaxing walk at Snyder County's Faylor Lake. This lake is a quiet spot for fishermen, birders, photographers, and hikers. You'll find year-round activities, including ice-fishing, bird sighting, walking trails, kayaking, and a championship level, 18-hole disc golf course. Faylor Lake DiscGolfPark, a nationally recognized 18-hole disc golf course and the perfect family getaway provides an enjoyable walk and disc golf fun for everyone from the youngest to the oldest. The course is free to play and open to the public from dawn to dusk, 365 days a year.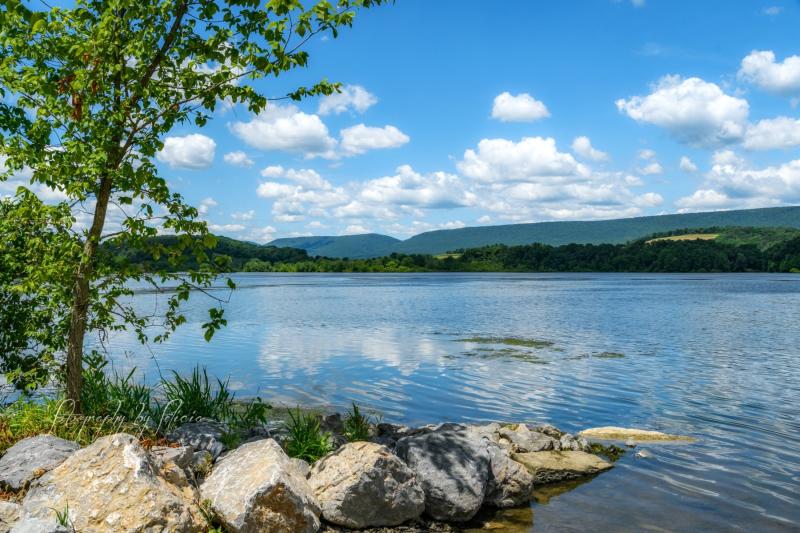 Then, we invite you to come to Penns Creek where you'll find T&D's Cats of the World. More than 200 rescued bobcats, lions, tigers, leopards, and other exotic wildlife live on 35 spacious acres. And for one final stop make your way to Penns Creek Pottery  Located in a historic mill in Penns Creek, you can learn how handcrafted fine quality stoneware is made and purchase a special piece as a keepsake reminder of your trip.
Before heading home, grab a bite in nearby Mifflinburg at the Rusty Rail Brewing Company. A regional craft brewery, Rusty Rail offers fresh food and the finest craft beers in a unique, historic atmosphere that includes several hand-painted murals and restored Ford trucks from the early 1900s that were built in their building. The first level of the brewpub features the main bar, main dining area, All Seasons Room and an outdoor Beer Garden with Bavarian-style beer tables and a rustic, gas forge fireplace. The second level houses the Game Room, complete with 1923 Brunswick pool tables, shuffleboard, foosball, darts, video game tables, board games, six big-screen TVs and another full-service bar. This room also features an impressive trophy collection of wild game mounts from all over the world. Check the calendar as Rusty Rail also offers the best in live music at Rusty Rail Live!
For help planning your trip contact the friendly staff at the:
Susquehanna River Valley Visitors Bureau
81 Hafer Road, Lewisburg, PA  17837
Toll-free: (800) 525-7320
Phone: (570) 524-7234
Fax: (570) 524-7282
[email protected]
VisitCentralPA.org