Agritourism: Homegrown in the Valleys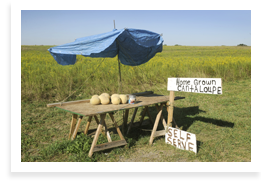 Regardless of the season, it isn't hard to find farm fresh foods, value-added products and agritourism experiences throughout the Susquehanna River Valley. This 'Homegrown in the Valleys' guide is the perfect resource for making your own agritourism road trip – just print the guide and choose your destinations. You'll find dozens of opportunities to explore the beauty and bounty of the region, from farm stands and farmers markets to wineries and pick-your-own farms.
Whether you're on the hunt for a specific product or taking your time to explore the countryside, this guide will help you find what you are looking for. Keeping farms economically viable is critical to preserving the scenic landscapes that surround our cities and towns. Buying local food helps keep farming profitable, ensuring that farmland can remain active well into the future. We are pleased to bring you this opportunity to treat yourself and your family to the excellent taste and quality of the Susquehanna River Valley.
Click the link below to view the Homegrown in the Valleys Brochure or request your free copy.