Kohl's Stony Hill Tree Farm
Kohl's Stony Hill Tree Farm Corn Maze and Hayrides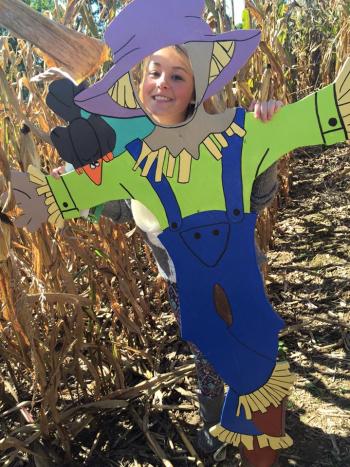 Kohl's Stony Hill Tree Farm started as a small Christmas tree farm that took root in 1986. That's when a rundown 39-acre farm was first purchased. The farm happened to have nearly 2,000 evergreen trees planted in one field. That first year some of the trees were cut and toted to the family farm market (Kohl's Market) located along route 147 about 3 miles north of Northumberland. Today the farm boasts 30,000 trees to choose from, plus over 80,000 ornaments in the Christmas Shop, and the largest collection of Christmas Tree Stands in PA.
In 2002, Kohl's Stony Hill Tree Farm added 4,800 sq. ft. Christmas Shoppe, with production of wreaths (in sizes from 6" to 6'), centerpieces, cemetery blankets, log boxes and headstone bouquets. They also offer white pine rope, over 80,000 ornaments, handmade crafts from local crafters, and many other items for sale. They also have PA's Largest Christmas Tree Stand Collection from all over the world! This impressive and unique collection features over 1,100 stands from all over the world dating from the 1800's to the present. In 2006, Kohl's began providing hand-made wreaths for "Wreaths for Warriors" to adorn local cemeteries within our region, a well-deserved tribute to all our local heroes.
In 2012 the Christmas Shoppe grew to 12,000 square feet and added a ramp to the second floor for handicapped customers. Kohl's Stony Hill Tree Farm's giant selection of colorful, superbly crafted tree ornaments allow you to decorate your tree in most any style you want. From sports themes, to outdoor themes, to even the wildest theme you can create, Kohl's has the ornament for your collection. So when you are ready to decorate your tree, be sure to stop into Kohl's first and check out our 80,000+ ornament selection. 
With so much fun on the farm during the holidays Kohl's has expanded to offer events throughout all the seasons. In the fall Kohl's Stony Hill Tree Farm offers a Corn Maze with 4 miles of trails and several games to do inside the maze. Outside of the maze find over twenty cool and challenging life-sized family lawn games.     
 Head to the Pumpkin Patch to pick your own pumpkin for Jack 'o lantern carving and fall decorating. Then shoot half ears of corn at talking targets with the Corn Cannon. See how good your aim is or you can challenge your friends for a little competition. Then try pumpkin chunking.  Our Pumpkin Chunking slingshot can hurl pumpkins amazing distances while you try to hit targets in the field.
Finish an afternoon of fun with a leisurely hay ride on back country roads and through a historic covered bridge.
Upcoming fall events at Kohl's include an Annual Classic Car Show & BBQ; a Tractor Show; a Scarecrow Contest; Dog Day in the Maze; Howl at the Moon in the Maze.
As always Kohl's offers a thank you to all current and former military personnel during September. Just show your military ID and enjoy the maze. Thank you for your service and helping to keep America free.
While at Kohl's be sure to tag your tree for the upcoming Christmas season, check out the Christmas Shoppe with its tree stand collection. And mark your calendar for holiday open house and visits with Santa.
In the spring Kohl's Stony Hill Farm offers Easter Egg Hunts, a Special Needs Easter Egg Hunt, and a Dog Bone Hunt for your furry four-legged friends.
In the summer enjoy Christmas in July when the shop isn't as busy as during the Christmas season.
Kohl's Stony Hill Tree Farm and Christmas Shoppe
3319 Mexico Road
Milton, PA  17847
Store - 570-437-3442
Cell Phone - 570-204-2995
www.kohlsstonyhill.com
Fun Facts
In the early years, wreaths were first made by hand, then manually with a pedal type machine. This was very hard on the hands and legs – especially with the increasing demands for more wreaths. With the price of air-operated machines so high, Stan Junior's ingenuity and craftsmanship allowed him to build his own. They now have 13 air-operated machines to produce all their wreaths.
Kohl's Stony Hill Tree Farm & Christmas Tree Shoppe gives back to their community by providing wreaths to "Wreaths for Warriors", doing fund-raisers for different organizations and helping out the Danville Future Farmers of America.
Wreaths cannot be made until several good frosts have occurred to make sure the branches and needles remain sturdy for long-lasting display.
Wreath production at Kohl's begins in early November and the best selection will be the first week of December.
The week before Thanksgiving is the best time to purchase or cut-your-own tree.
Stan Junior's collection of tree stands started with his Great Aunt Lena who had 4 to 5 stands from the '50's and '60's when she passed. Stan Junior checks out the Internet 2-4 times a week in search of tree stands for his collection. He now has over 700 tree stands from all over the world, with some dating back to the 1800's.
Their ornament collections include such themes as college sports teams, pro sport teams, Nascar racing, John Deer, Armed Forces, musical instruments, occupations, dance & gymnastics, sports that include football, baseball, golf, swimming, wrestling, lacrosse, cheerleading, soccer, plus snowmen, cartoon characters, and Disney characters – just to name a few!