OPEN CALL for ALL ARTISTS
Arts & Museum Exhibits
March 9, 2023

to

November 18, 2023
"Going Green" open call
Work due Saturday, April 1st
Show runs Monday, April 3rd, through Friday, May 5th
Green is the color of new beginnings, Springtime, and Earth Day. It is associated with luck, prosperity, and hope. It's also associated with greed, jealousy, and illness. Additionally, green can mean eco-friendly or energy efficient. The Exchange invites you to submit artwork featuring the color and/or the concept of "green".
_______________________________________________________________________
In-Fill PA open call
Work due March (exact date TBD); hanging Saturday, May 6th
Show runs May 8th through June 9th
IN-FILL PA participants are asked to submit hard copies or PDFs of drawings, graphics, photo-collages, plans, and 2-D models of concept designs and implemented projects that address in-fill spaces. Before and after imagery is welcome as well as images that illustrate the process of in-fill space transformation.

Project Background:
In-fill is the practice of re-dedication of land to new programming and/or development. Many small towns and cities in Pennsylvania, and elsewhere, have vacant lots. Often these lots sit unused for years. In some instances, communities have reassigned these spaces as outdoor amenities such as pocket parks, playgrounds, community gardens, outdoor workspaces, meditation gardens, and performance venues. These transitions breathe new life into underutilized spaces.


The Exchange Gallery, 24 East Main Street, Bloomsburg
May 8 – June 9, 2023

The Art Grind, 339 Mill Street, Danville
May 11 - June 3, 2023

Berwick Theater, 110 East Front Street, Berwick
Dates TBD
____________________________________________________________________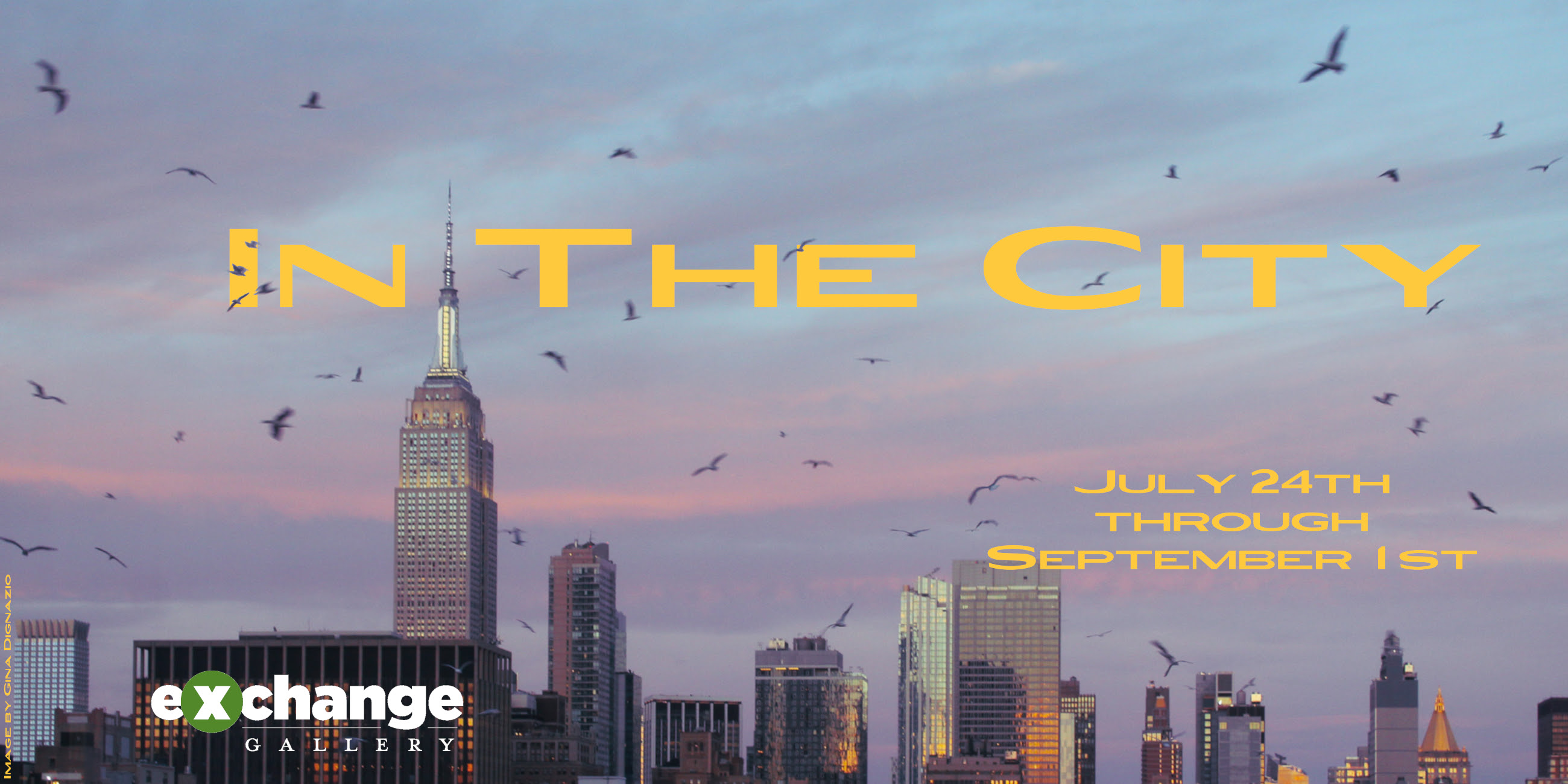 "In the City" open call
Work due Saturday, July 22nd
Show runs Monday, July 24th through Friday, September 1st
To explain his impressions of the early industrial cities of Europe, Charles Baudelaire used the term "ennui", the feeling of being alone on a crowded place. He saw these cities with their influx of people from the country as lonely and distant. Is that how you think of cities today, or as bustling cities of opportunity? Or do you see them as dangerous, or mysterious? The Exchange Gallery invites you to share your thoughts on the city though your art. All media welcome.
_____________________________________________________________________
"Food for Thought" open call
Work due Saturday, October 14th
Show runs Monday, October 16th, through Friday, November 17th
"Nothing would be more tiresome than eating and drinking if God had not made them a pleasure as well as a necessity." – Voltaire
As one of our basic life needs, food has been a popular subject matter throughout modern art and art history. Depictions of food can be found in Italian Renaissance paintings, on Roman mosaics, and inside the Egyptian pyramids. Food is the cornerstone of holidays, celebrations, and the Bloomsburg Fair! Everything from fruits and vegetables to delectable desserts, elegant cuisine to greasy diner platters – we love it all, and we want to see it all! The Exchange invites you to submit artwork on the delicious theme of food. The Exchange asks artists and show-goers to donate non-perishable food items during the duration of this exhibition. At the end of the show, we will bring your donations to the Bloomsburg Food Cupboard.
_______________________________________________________________________
"Cash & Carry X" open call
Work due Saturday, November 18th
Show runs Monday, November 20th, through Friday, December 29th
We want to fund your public art ideas. We want your help in creating an Arts District Downtown Berwick, on Front and Market St. Submit to our Call for Art grant round to help build the town you want to see. It is an easy online application and you can reach out to me if you have any questions about the process or what we hope to create. Go to the website and learn more. www.berwickartsassociation.com
Deadline for submissions: 11:59PM PST March 3, 2023
View All
Upcoming Arts & Museum Exhibits Events