Exchange Gallery Exhibit Schedule (UPDATED)
Arts & Museum Exhibits
July 9, 2020

to

December 31, 2020
Exchange, The
24 East Main Street
Bloomsburg
570-317-2596
---
---

The Exchange Gallery is OPEN! Mondays & Fridays, 10 a.m. to 6 p.m.

Masks required, no more than fifteen people at a time.

WE LOOK FORWARD TO SEEING YOU.

UPDATE: 7/9/2020

Our 2020 Gallery schedule has changed

We have adjusted the Gallery schedule -- and we cannot promise that this one will not get changed too, but we would like to have at least some hope and an illusion of stability in our world; please keep checking back for more information, and we will keep you up to date. ExchangeArts.org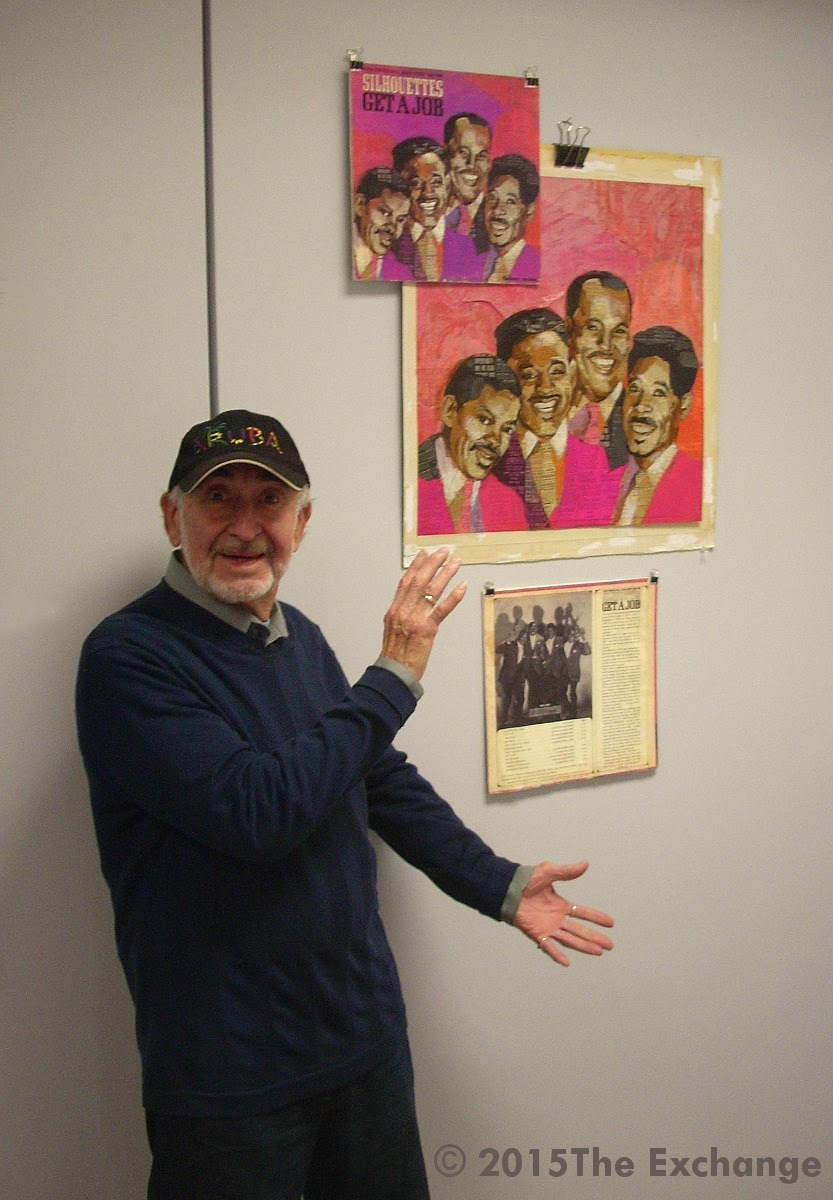 During the 2015 "Cover of a Cover" show, Sam Dion, one of Bloomsburg's artist treasures, brought in original album cover art that he did for the Silhouette's album "Get a Job" -- in 1968! We hung the original along with a reproduction of the album cover, plus a mock-up of the album's back cover, autographed by each of the four Silhouettes! Sam lives in Philadelphia now and just turned 90 years old.

The Exchange Gallery calls all regional artists to enter three upcoming exhibitions. All will hang in the Exchange Gallery and each will have an enhanced on-line presence as well.

All interpretations and all media including installation proposals accepted. In common with all of our exhibitions, we welcome all artists regardless of level of experience and abilities.

---------------------------------
"COVER OF A COVER"
Work due Saturday, June 27th
Show runs Monday, June 29th, through Friday, July 31st

Celebrating The Exchange's tenth anniversary, we have brought back one of the most popular open-call shows from the past: Show us how YOU reimagine a record album cover! Whether "Dark Side of the Moon" or Joni Mitchell's "Blue" or the Berlin Philharmonic's Verdi "Requiem" or any other album at all in any style and from any era, you can use any medium. LP sleeves measure 12" x 12", but do not let that limit you; work just needs to fit through the front door, and you can work in 2-D and 3-D media.
---------------------------------

"NEST 3"
Work due Saturday, August 1st
Show runs Monday, August 3rd, through Friday, September 4th

Celebrating The Exchange's tenth anniversary, we bring back this popular open-call show theme from the past. Interpret "nest" however you wish; as long as your piece fits through the front door, we'll display it! For a fascinating look at the science of birds' nests, see this story from the New York Times.

---------------------------------

"DOPPELGANGER"
Work due Saturday, September 5th
Show runs Tuesday, September 8th, through Friday, October 9th

The dictionary defines it thus: dop·pel·gäng·er -- /ˈdäpəlˌɡaNGər/, noun -- an apparition or double of a living person. What does "doppelganger" mean to YOU? We want to see your artwork!

---------------------------------
To download a loan agreement form, which must accompany all entered artwork, click here. Questions? Give us a call at 570-317-2596 or drop us a line at [email protected]
Picnic Table Project

The picnic table project has gotten noticed!
The Exchange invites artists from throughout our community to beautify eight picnic tables that came to downtown Bloomsburg as part of an effort to revitalize the area during the COVID-19 crisis. We provided paying work for artists, whose outlets have decreased drastically (galleries closed, outdoor festivals cancelled), and the project supports local businesses and enhances our downtown. Artists have finished two of the picnic tables so far: Tara MacNish (above) and Deb Stabley (below) each did one of the tables across Iron Street from Brennan's Big Chill, and they look BEAUTIFUL. Bring your kids and come find the ladybugs hiding on Tara's table!

We have artists working on three more of the tables, on the Square, and we will share more photos soon. We have other artists making proposals for the remaining three tables now.
Thanks to Bloomsburg Council member Justin Hummel of The Study Bar for this idea, and thanks to the Bloomsburg Town Park Improvement Association for lending the tables to the downtown and for permission to decorate them. Eventually the tables will move back to Town Park, to get enjoyed by more generations of park-goers.


WNEP-TV ran a story about the tables on Monday the 15th of June; watch it here.
What's NEW at the Exchange?
The well is dry this week and we are out of things to post on Instagram this week! Keep your art submissions coming! What have you been working on during quarantine? Send us your best or even the works in progress you are creating while under quarantine. It's easy to do and you'll be featured in our weekly email and also on our
Instagram page
.
Tahliah Fuller brought down her piece for the "Cover of a Cover" show yesterday, and we got it hung up today -- a mixed media collage on a guitar case! We expect at least one more piece this afternoon, and over the weekend we will get everything onto our Web site.
You can see the show in person from now through the end of July, Mondays and Fridays 10 a.m. to 6 p.m. (and other days as noted on our Web calendar at ExchangeArts.org/calendar); we may yet have a reception too, so stay tuned.
A local artist in Williamsport recently created a Facebook Group called Lycoming County Creatives and in less than a week it is up to 545 members. This group is for all creatives in Lycoming County, Pennsylvania and surrounding areas to share their craft and connect with each other. Artists, musicians, photographers, writers, crafters, comedians, and so on are welcome.
The gallery will be open Saturdays & Sundays noon to 5 pm in June & July
We ask all patrons to wear a face mask, social distance, enter through the front door, and ask for gloves if handling any artwork.
Our restroom will be closed to the public.
This week, artists reflect on quarantining from their studios in Los Angeles, New York City, Minneapolis–Saint Paul, and Long Island.
The Earth Speaks is an artist's means of capturing their concern regarding the climate crisis and how it is affects our planet, as well as an opportunity to offer possible solutions.

Thirty-six artists submitted 62 pieces to be juried. 44 works were selected to be included in the show from artists residing in Pennsylvania, New Jersey, Maryland, New York, Massachusetts, and Connecticut.
As stores begin to reopen, the future of these artworks remains in limbo but one thing is certain: for the first time in decades, the Manhattan neighborhood is teeming with art again.
Virginia art teacher Sandee Darden's lockdown journal has been causing a stir on social media. Full of topical commentary about all the things we are experiencing as a result of Covid-19, and including quality drawing, it's easy to see why. I asked Sandee if I could share her work with art teachers and wanted to find out more about what had led her to make this journal.
...
Your guide to the arts in Bloomsburg, Berwick, Danville & beyond!
Now entering the dog days of summer...
Take some time to cool off with the arts!
Welp, the sweltering days of summer are here. We hope you all had a safe and happy 4th of July weekend. Things are starting to get back to the new sense of "normal" and The Exchange has been busy providing great art to the community. Let's take some time to cool off with the arts! We want to remind you to stay safe and continue to wear your masks if you partake in any events and continue to practice social distancing. Enjoy what we've put together for you this week and be safe out there!
View All
Upcoming Arts & Museum Exhibits Events