Warrior Run Fort Freeland Strawberry Festival
The first Strawberry Festival was held in 1980 by area residents who wanted to support historical research and preservation of the area's Revolutionary War Era culture. The event was a hit from the start and an annual tradition was established celebrating great food, strawberries and entertainment.
Over three decades later, this festival supplies fun for the entire family and everyone with a sweet-tooth for strawberries. Behind the scene preparations begin on Saturday as members of the Heritage Society start churning hundreds of gallons of ice cream – in fact, over 100 total gallons of four types of ice cream – chocolate, vanilla, peanut butter and, of course, strawberry. About a dozen men and women focus on hulling and cutting mountains of locally grown strawberries for the various desserts which include strawberry shortcake and strawberry pies. Other volunteers set up the tents, grills, tables and chairs and prepare the Church for Sunday's festivities.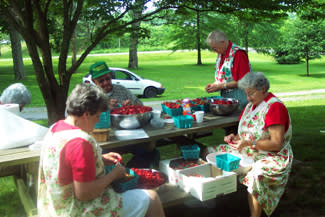 Come Sunday, the festival is ready for the crowds that come from near and far to enjoy a day filled with history, fun, entertainment and good food. Not only will you enjoy their namesake strawberries, but food lovers will enjoy the Festival's famous ham barbeque, plus the All-American summer fare of hamburgers and hot dogs. Be sure to stop by the Antique Car and Truck display so you can get a close-up view of vintage vehicles and talk to the owners who will gladly brag about their "babies".  Music lovers will local entertainment and old fashioned hymns accompanied by a pump organ. While at the Festival, be sure to take a tour of the Church and Cemetery so you can truly understand the history and heritage that this Festival helps preserve and support.
What you may not know is that the Warrior Run-Fort Freeland Heritage Society sponsors an amazing "Apprenticeship Master Program" so that the skills, crafts and trades from early American skills can be passed onto younger generations to embrace and celebrate. Per their mission statement:  "It is the purpose of this program to foster and teach skills and crafts, which were important to the everyday life of Pennsylvania, and in particular, the Warrior Run Area in the 18th and 19th centuries." Attendees to this year's Festival will be able to view the skills and wares of the spinners and weavers that are part of this Apprenticeship Master Program.
It's best to come early to the event because the 150 gallons of ice cream and the 40 strawberry pies go fast! Admission and parking are free. The best place to park is the big parking lot off the Susquehanna Trail. For more information and directions, visit their web site at www.FreelandFarm.org.
Fun Facts
Warrior Run Fort Freeland Heritage Society's Annual Strawberry Festival, offering free parking and free admission on Sunday, from 11 am to 4 pm.
Some travel great distance for the Strawberry Festival.  Some are descendants of the early settlers who carved out homesteads in the River Valley in the late 1700's and this event is a homecoming for them.
Strawberries are the only fruit with seeds on the outside.  The average strawberry has 200 seeds.
Strawberries are the first fruit to ripen in the spring and they are a member of the rose family.
There is a museum in Belgium just for strawberries.
Americans eat on average 3.4 pounds of fresh strawberries each year plus another 1.8 pounds frozen per capita.
Strawberries are low fat, low calorie; high in vitamin C, fiber, folic acid, potassium and, as part of a 5 a day fruit & vegetable program, can help reduce the risk of cancer & heart attacks.
Folk lore states that if you split a double strawberry in half and share it with the opposite sex, you'll soon fall in love.
Over 53 percent of seven to nine-year-olds picked strawberries as their favorite fruit.
In parts of Bavaria, country folk still practice the annual rite each spring of tying small baskets of wild strawberries to the horns of their cattle as an offering to elves. They believe that the elves are passionately fond of strawberries and will help to produce healthy calves and an abundance of milk in return.