Warrior Run Fort Freeland Heritage Days
Be Present in the Past!
Imagine fields and forests in view as far as your eyes could see. Imagine buffalo and bison roaming free in our mountains and valleys. Imagine living within a fort, built for your protection from Indians and British troops. Imagine relying on yourself – or neighbors – to make soap, brooms or fabric for clothing, plus a myriad of items and services you could not order on line or run to the mall to purchase. Imagine no TV, Internet or phones, cars, washing machines, microwave ovens or indoor plumbing. Let your imagination witness a magnificent display of what life was like in the Susquehanna River Valley from 1770 to 1870 by attending the Warrior Run-Fort Freeland Heritage Society's Annual Heritage Days, in October in Turbotville behind the Warrior Run High School.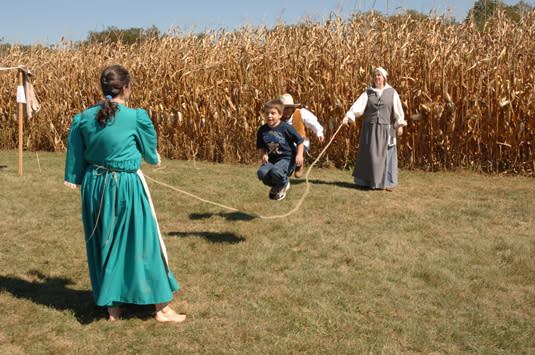 This two-day event showcases the history and heritage surrounding the land used for the Heritage Day celebration which is home to the original site of Fort Freeland, plus the existing structures of the Warrior Run Church and the Hower-Slote House.
Stockaded in 1778, Fort Freeland protected several families near Warrior run creek. On July 29, 1779, the Battle of Fort Freeland occurred when over 300 Indians and 100 British Troops surrounded the Fort. With only 21 inside to defend the Fort, surrender was imminent. Today the Hower-Slote House, built in 1829 rests on the land that was once Fort Freeland. The current building of the Warrior Run Church was built in 1835 replacing two earlier structures. The first Warrior Run Church was burned by the Seneca Indians during the "Great Run-Away" of 1778, following the Wyoming Massacre at Forty-Fort. All of the people fled down river on foot, or in any conveyance available. Following the Battle of Fort Freeland, the second "Great Run-Away" followed, with settlers not returning until after the Revolutionary War ended. The second church burned in 1833 for "unknown reasons".
In 1978, members of the Warrior Run School Board of Directors reached out to local communities and formed the Warrior Run-Fort Freeland Heritage Society. An archeological dig by Penn State University at the Fort Freeland site uncovered many artifacts and building details. On July 29, 1979 a bicentennial celebration was held at Fort Freeland. Society members cleaned the exterior and interior of the Hower-Slote House, decorating the rooms with period-correct furniture. Despite the rainy first day of the first remembrance of the Battle of Fort Freeland, people stood in line to tour the Hower-Slote House and attend a commemorative service at the Warrior Run Church.
After being rejected for financial support from the Pennsylvania Historic and Museum Commission, the Society's passion for their history and heritage led to the decision to raise the money they needed by themselves. The first Heritage Days was held the first week of October in 1982.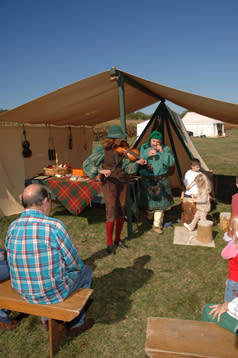 Today, the Warrior Run-Fort Freeland celebrates not only the Battle of Fort Freeland, but the life and daily activities of the colonial-era pioneers who settled the Susquehanna River Valley. Attendees to the two day event will discover and explore a wide variety of things that will educate and amaze you. You will first notice that the grounds of the Heritage Days celebration are filled with people dressed in authentic period costumes as they demonstrate and share living history experiences. Here, you can listen to the stories of Widow Catherine Smith, Civil War Nurse Sarah Dysart, the Tinker/Medicine Man, plus Pennsylvania stories from Jack and Tobi, and, listen to the traditional music that features strolling fiddlers, and performances of Appalachian and Civil War music. Be sure to visit the porch of the Hower-Slote House to watch and listen to Celtic/Irish music and cloggers, and to sit in the Warrior Run Church to listen to traditional pipe organ music.
While at the event, be sure to stroll through the Civil War Encampment to learn more about military life and experiences and take the time to visit the Native American Village to witness members of the Southern Woodland Indian Loyal Confederacy wearing either 18th century regalia or portraying colonials who were their military allies and trading partners. In the village you will also learn about Native American women's and men's roles, clothing, warfare and weapons, pottery, finger and wampum weaving, twinning and games.
Warrior Run-Fort Freeland Heritage Days invites all attendees to enjoy horse and mule drawn wagon rides throughout the grounds; tours of the traditional Herb Garden, plus colonial foods, homemade soups and sandwiches, plus homemade pies and funnel cakes.
And one cannot say enough about the amazing expert and apprentice trades people who will be demonstrating over fifty skills of the 18th and 19th centuries, using period tools to recreate traditional past times and trades. Demonstrations, crafts and exhibits include 18th century laundering, 19th century herbs, bobbin lace-making, quilting, sampler making, tatting, spinning, cross-stitching, needlework, weaving, rag rug crocheting, wood splitting, bowl making, flax culture and knitting. Traditional trades are showcased by blacksmithing, brick making, butchering, cigar making, coopering, fence making, pottery, pump making, rake making, rope making plus tinsmithing. Food demonstrations and exhibits include handmade and processed apple butter, clear toy candy, potato candy, pie baking, plus Three Sisters Stew and hearth-cooking demonstrations.
What you may not know is that the Warrior Run-Fort Freeland Heritage Society sponsors an amazing "Apprenticeship Master Program" so that the skills, crafts and trades from early American skills can be passed onto younger generations to embrace and celebrate. Per their mission statement: "It is the purpose of this program to foster and teach skills and crafts, which were important to the everyday life of Pennsylvania, and in particular, the Warrior Run Area in the 18th and 19th centuries. By bringing persons skilled in a particular area and young persons who wish to learn that skill, the Heritage Society will support in any way possible the development of this program". Kudos and a big "hats off" to the Warrior Run-Fort Freeland Heritage Society who not only embraces our history and heritage but is committed to making sure generations to come can learn the skills, crafts and trades that were the backbone of day-to-day living as America became great!
The big "Must See" event is the Annual Fort Freeland Battle reenactment at 1pm each day of the event. Attendees will get a true idea what happened that eventful day on July 29, 1779 by witnessing one of the saddest events in the history of the Susquehanna River Valley. Written details of the battle will – without a doubt – create a memory to have forever, but witnessing the reenactment will make history more "real" than the written word ever could. Witness our history and be proud of our heritage.
I am a firm believer that our past provides us all with the insight we need to better understand who we are as residents and communities. Our pasts make us relevant today. We matter because we mattered. Residents of the Susquehanna River Valley helped forge an often changing and embattled colony of 13, helping to create a Commonwealth named Pennsylvania; the Keystone of the new country that would become America. Embrace our past – and struggles – by better understanding and celebrating the lives of Pennsylvania Pioneers who staked their claim on our land and in our minds and hearts. Attend the Warrior Run-Fort Freeland Heritage Days in October for a view of our past. For more information on directions, events, and times go to www.FreelandFarm.com.
Fun Facts
The Hower-Slote House and the Warrior Run Church are on the National Register of Historic Places.
The Pennsylvania Federation of Museums and Historical Organizations honored the Warrior Run-Fort Freeland Heritage Society's Heritage Days with their Award of Merit in 2005.
National Geographic honored the event by selecting the festival for inclusion in its special edition "Geotourism Map & Guide to Appalachia", as an event that sustains the geographical character of the area, the environment, culture and heritage.
With little ammunition to fight the Indians and the British Troops, women inside the fort melted their spoons and plates into bullets.
The surrender agreement with the British allowed old men, women and children set free, with all those "able to bear arms" taken prisoner. When Mrs. Kirk heard the terms on which they were set free she put female clothes on her son William, a lad of 16, and he escaped with the women.
Those set free walked 18 miles to Northumberland for refuge.
Check out www.FreelandFarm.com to learn more about their "Apprenticeship Master Program."