Snowfest at R.B. Winter State Park
February is now upon us and we know what that means… That rascally groundhog will rear his furry head and tell us how many more weeks of Old Man Winter we can expect. Let's hope that warmer weather greets us sooner than later but let's also take the time to break free from mid-winter cabin fever to get out and enjoy this month's "Must-See" event – R. B. Winter State Park's Annual Snowfest- held on the second Sunday in February from noon to 4 pm.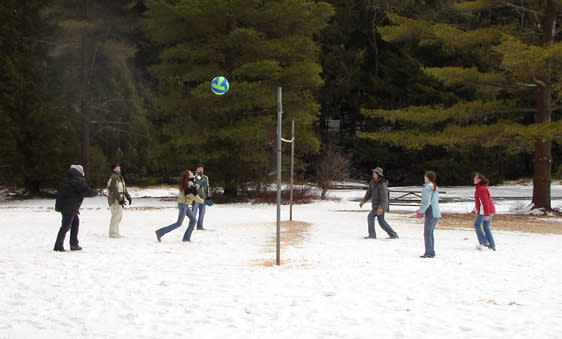 Snowfest was originally founded to simply encourage people to get out and enjoy the snow through a combination of education and recreational, fun events. Remember when we were young and fearless about the snow? No matter how many layers of clothes or Michelin-Man snowsuits Mom zipped closed, snow meant fun and adventure, with a steamy cup of hot chocolate as a reward for braving the brutal conditions of Mother Nature. Do yourself a favor - embrace your inner child; grab the kids or grandkids and escape to R.B Winter State Park to discover amazing winter fun!
It is quite surprising the number of events and activities Snowfest hosts in four short hours. Recreation lovers can enjoy a snow shoeing hike, cross country skiing, ice skating, winter mountain biking, plus learn snowmobile safety tips, plus rides for kids. Education and fun are combined into instructive "how to classes" that showcase winter photography, ice fishing skills, wildlife watching, primitive fire building, GPS and geo-caching, winter camping equipment and techniques, an ice sculpture demonstration, plus information on winter search and rescue dogs. Designed for the entire family, Snowfest also offers activities for children that include a winter story time, plus nature activities and crafts.
If a fan of competitive games, you may want to register for the 5K Race or play a game of Winter volleyball and Broomball. Now what is "Broomball", you ask? Broomball is similar to hockey but played while wearing your regular winter boots and with broomsticks instead of hockey sticks and a beat-up volleyball instead of a puck – no skates involved or allowed.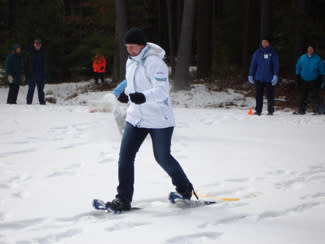 Now I know you're thinking that the weather may have something to do with the success of Snowfest – after all, the weather would be responsible for putting the "snow" in Snowfest. And, of course, you would be correct. The more snow…the better. The colder it is, the better the chances of more frozen ice, and more ice helps guarantee success for all the ice-related events. However, let me assure you that the dedicated staff and volunteers that help produce Snowfest have dealt with all types of weather over the last 17 years and host the event come rain, shine, snow or mud. Now some events will need to be canceled in the event there is no snow or ice in which to play, but other events are designed to be enjoyed regardless of the snowy weather – or lack thereof. Crafts for kids, indoor education programs and a silent auction are their big events that aren't impacted by the weather. And as long as it's not raining, hiking and wildlife watching are always great things to do and enjoy at R.B Winter State Park. And personally, I think a muddy game of Winter Volleyball and a 5KRace would challenge and entice you X-Game die-hards!
Be sure to dress for comfort as temperatures at R. B. Winter Park are about ten degrees cooler than what your home thermometer may indicate. And remember regardless of the weather; don't let winter doldrums or cold weather keep you inside and restless.  Head to R.B. Winter at noon to embrace the season and perhaps learn something new about winter activities and fun. Who knows – you may discover you're a natural at Broomball!
SnowFest Fun Facts
The best place to park is the parking lot near the Environmental Research Center – be sure to follow the signs.
More than 23 activities are planned for Snowfest.
The day is so jam-packed, be sure to get there by noon so you can take advantage of all there is to see and do.
Enjoy the hot soups, hot chocolate and hot dogs served at Snowfest to keep you warm and happy.
Past weather included a short-lived blizzard that resulted in a white-out at the lake and confused – and surprised - many of the participants in the 5k race.
Scouts and their leaders are encouraged to come to the event to take advantage of the skill classes and activities.
All events are FREE with the exception of equipment rental for some activities such as cross-country skiing and ice-skating.
The event also hosts a silent auction that helps benefit the park's environmental programming.
For more information, go to www.dcnr.state.pa.us. Locate the event section of the toolbar and select R.B. Winter State Park from the drop down menu of park locations.