Shade Mountain Harvest Festival
October is upon us and Autumn has us in its embrace, tickling all of our senses:  The visual beauty of the ever-changing color of the trees; the sounds of leaves rustling at our feet and dancing in the wind; the smell of wood burning in fireplaces and the crisp scent of the outdoors; the simple joy of tossing leaves into the air, and the warm, soothing tastes of a hearty soup, bowl of chili or a nice glass of red wine to warm your soul and relax your mind.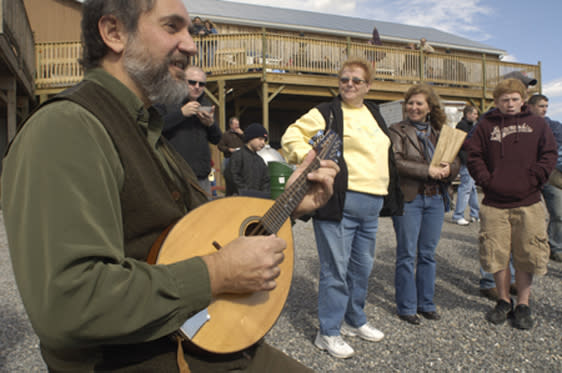 The Shade Mountain Winery Harvest Festival combines all of our senses and celebrates everything wonderful about this time of year. Held in October Shade Mountain Winery is located on Route 104 between Penns Creek and Middleburg.
In 1989, Karl and Carolyn Zimmerman converted their corn and soybean farm into a vineyard. Since then, their four children have returned home to help run and create a very popular and successful family business. The true success of Shade Mountain Winery is a result of their love for family and friends, and their passion for winemaking. The love of good wines has become a huge trend in America, with Pennsylvania wine and wineries making their mark as keen competitors in the industry. Shade Mountain Winery is an example of these distinct and fine PA wines, offering over 30 varieties of wine and winning many prestigious awards. Throughout the years, Shade Mountain Winery has grown to become more than just a vineyard and a retail space – it has become a destination, offering events for wine-lovers and enthusiasts from near and far. 
The Shade Mountain Winery Harvest Festival started as a customer appreciation day for their loyal fans and friends. Throughout the years, the festival – and number of fans – have grown bigger and bigger, attracting wine enthusiasts from all over, with some making a weekend getaway to the Susquehanna River Valley to enjoy great wine, fun, friends, family and Fall.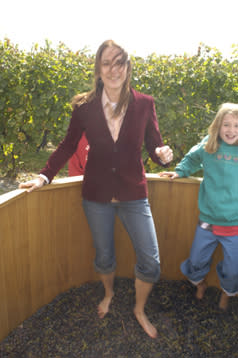 Wash your feet and get ready for some old-fashioned, "I Love Lucy" style, grape stomping on Saturday. A huge hit during their Harvest Festival, grape stomping takes place in a special, made-to-order wooden stomping pit and to help set the mood and get your "grape gush" on – fun, stomping music will be played to keep you a'hopping and a'stomping!
Also on Saturday, nearby animal refuge – T&D Cats of the World – will have an animal display that you will not want to miss. And what kind of wine goes best with pork or homemade ham and bean soup you may ask? You will have the opportunity to answer that question as you enjoy their Saturday Pig Roast and homemade soup while sampling wines from their store to find that perfect pairing of taste treats.  Experience all this while also enjoying live entertainment that pairs perfectly with wine!
Sunday's activities include more live entertainment plus tours of the winery and the vineyard. These tours are a unique treat as they do not conduct guided tours on a regular basis. Karl Zimmerman – or his apprentice Bill – will conduct the tours, providing all with a tour of the winery's rarely seen basement while sharing their expert knowledge of the art of winemaking. Be sure to listen up…one never knows what family secrets might be shared!  Sunday's tours are scheduled throughout the day.  Sunday also offers horse-drawn carriage rides throughout the vineyards, delicious food truck treats; "Yoga In The Vines" [$25 fee includes yoga and a glass of wine - call 570-837-3644 for tickets] and, of course, Shade Mountain Winery's tasting room will be open for samples and sales both days.
If you are big fan of autumn, festivals, music, homemade food, fun and great wine – the Shade Mountain Winery Harvest Festival is the place to be. Grab some family, friends and fellow wine enthusiasts and head out to Route 104 to enjoy an Autumn tradition and to have a stomping good time! For more information about this event and Shade Mountain Winery, visit ShadeMountainWinery.com.Cheers!
Fun Facts
Shade Mountain Winery is part of the Susquehanna Heartland Wine Trail which promotes a trail of 16 wineries in Central PA.
Karl calls his crew in early on Saturday to begin the pig roast and start the homemade ham and bean soup. The crew cooks the soup in a big black kettle under the deck at the winery. The soup used to be stirred with an oar, but family friend Grant Rowe made a custom wooden stirrer that is now used. Be sure to listen closely you as you walk by the crew and their kettles as you'll probably hear them listening to the Penn State game.
The vineyards of Shade Mountain Winery cover over 68 acres and grows over 40 varieties of grapes.
The first time T&D Cats of the World brought one of their tigers to the festival, passing motorists could not help but slow down to marvel at the sight of the Tiger. Horse and buggies also moved a little bit faster as the tiger would growl at the sight of the horses.
Be sure to bring your camera as the view of the wineries from the deck at the vineyard offers amazing sights to capture – especially in Autumn!
Shade Mountain Winery's fruit wines are naturally sweet and delicious, avoiding that often "too-sugary, too sweet" taste of other fruit wines. Their semi-sweet Cranberry Wine is perfect for Thanksgiving dinner or to combine with ginger ale for the perfect Autumn Wine Spritzer!
The tasting room at Shade Mountain Winery offers a variety of free, delicious, homemade recipes that include their wines.