McClure Bean Soup Festival
The Susquehanna River Valley is not short on festivals, but what impresses me the most is that our region offers a wide variety of festivals that are unique and distinct without competing with each other. Our festivals are truly "community parties" that celebrate our history and heritage or something very specific that commemorates the host community. The definition of "festival" is: "An occasion for feasting or celebration…that recurs at regular intervals. An often regularly recurring program of cultural performances, exhibitions, or competitions." The McClure Bean Soup Festival and Fair, held in September in McClure in Snyder County fits the definition to a tee.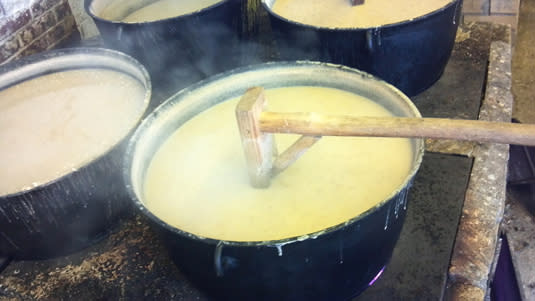 This Bean Soup Celebration is a living memorial to all veterans of all wars, having been started by the Veterans of the Civil War of McClure and nearby communities. In the second floor of Joseph Peter's Blacksmith shop in Bannerville, PA, on July 23, 1883, a group of Civil War veterans met to organize the Grand Army of the Republic Post. Their first formal session was held on October 20, 1883. Time and again, this group of veterans held their own bean soup festivals. But in 1891 they invited the public for the real deal – a Civil War bean soup dinner. 
Comrade Ner B. Middleswarth chaired the celebration and secured "real hard tack" (a VERY solid, thick biscuit/cracker made from flour, water and salt that could be stored for years) to be served with the bean soup while Comrade Henry Kahley – a Civil War cook – was in charge of the soup, assisted by Comrade Aaron Bickel. The legacy of this celebration was carried on by the Henry K. Ritter Camp #65 Sons of the Union Veterans of the Civil War. In 1937 a non-profit corporation was formed. And since then, the citizens of McClure have continued this annual bean soup tradition.
Originally, the event was held for one day – a Saturday. Throughout the years, it has grown to 2, 3, 5 and now it is up to 8 days, and believe me, there is a LOT going on throughout these 8 days!
For those of you who may be a wee bit competitive with your talents and skills, the Bean Soup Celebration offers a plethora of contests. The Baking Contest offers prizes for Angel Food Cake, Apple Pie, Chocolate Cake, and Chocolate cookies, brownies or bars. The Decorating Contest is for those with a knack for cake and cupcake decorating, wheelbarrow flower arranging or pumpkin decorating. The Food Contest is for those who can make delicious ice cream, chicken wings, chili or who can chug a 10 oz. glass of milk the fastest. Farmyard Games include egg tossing, corn shelling and hay bale throwing. Other contests include a Pageant Day, crowning the Bean Soup Pageant Queen, Bean Soup Pageant Princess, Bean Soup Pageant Little Miss Bean and Bean Soup Pageant Teeny Bean, plus a Photo Contest, Poster Contest, Senior King & Queen Contest and the Shoe Box Float and Scarecrow Contests.
Entertainment is offered every night – rain or shine – and is free! Guests can enjoy a wide variety of music that includes southern gospel music, bluegrass, country and a wide range of other popular music.
Though soup is the main attraction, be sure to enjoy the many added attractions to the Festival and Fair that include fair exhibits, the Horse Show at Moondust Meadows, amusements, rides, concessions, displays and Civil War re-enactors. And you won't want to miss the Pepsi Day Parade that includes floats, marching groups, antique and classic cars, farm machinery, tractors and so much more!
It may have started with bean soup - and although always the star of the event – the McClure Bean Soup Festival and Fair has turned into a great event that celebrates a variety of traditions and heritage that draws 40,000 to 60,000 people annually from near and far. We are sure the Founding Fathers are proud!
Fun Facts
To feed the tens of thousands of visitors, tons of beans, beef and crackers are cooked in large iron kettles over a wood-fired battery of furnaces capable of handling 16 large kettles at one time. Each person stirs two of the kettles during their several hour shifts.
Admission is FREE. Entertainment is FREE.
In 2008, the event officially became the 117th "Fair" in Pennsylvania. At that point it became Pennsylvania's oldest Festival and its newest fair!
Bean Soup served daily starting at 12 noon. Concessions open at 4 pm.
Parking at the Fair is provided for a nominal fee by local business and organizations located around or near the Fair