Anthracite Heritage Festival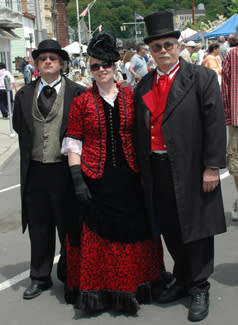 The Anthracite Heritage Festival of the Arts was first held in 2005. The Anthracite Heritage Festival of the Arts was created by the Northumberland County Council of the Arts and Humanities with the goals of exposing more people to the arts and artisans from their communities; reminding the region's children of their roots and heritage, and providing the annul influx of returning alumni a celebration to remind them of – and welcome them – home. This festival offers a variety of events that showcase the authentic charm and heritage found in many of the towns found in the Susquehanna River Valley. 
On Saturday from 10 am to 5 pm, enjoy a variety of fun for all ages. Compete in a 5k race; enjoy historic carriage, rides & rides in a pumpkin with a princess, try your hand at the axe throwing booth or take cemetery tours to learn more about the stories of those who lived, worked and died in this area so rich with Anthracite history and heritage.Over 95 vendors line Market Street in Shamokin, offering amazing ethnic food; live demonstrations and handmade wares by artisans and craftsmen, plus children's activities and displays. 
Churches will be open for tours that will amaze and inspire you with their breathtaking architecture and images. The Shamokin Coal Township Heritage Museum will also be open with its featured miniature coal breaker. Visitors can tour the Fireman's Museum; see the miniature train display, and tour the first electrified building by Thomas Edison.  Returning alumni will be able to walk down memory lane with a tour the former Shamokin High School that now offers a Fine Art Gallery. Historical memorabilia will be on display and movies will be offered for all to enjoy. 
Entertainment will be provided throughout the festival all day that will include strolling musicians, Victorian high wheelers and balloon artists. Enjoy clothesline art by local school children and marvel at the juggler a top a high bicycle. Stage entertainment includes After Hours Big Band Sounds, Heath's Gymn Crew, a puppet show, Tir Na Nog Irish Stepdancers, & Celtic Wood and Wire band.
With the ongoing rush and information-overload of daily life, we often forget to slow down and remember  - and celebrate – what has made the Susquehanna River Valley so diverse in its history and heritage. The Anthracite Heritage Festival of the Arts reminds – and showcases – how the Anthracite Industry not only impacted the region's landscapes, but how it carved, created and shaped the towns, customs, celebrations, food, entertainment, architecture, lore and legends that are celebrated today.
Fun Facts
Parking - There is off street parking on either side of Market St. and the festival area is easily accessible. Best food seems to be ethnic food, such as halushki, pierogies, potato cakes, & pigeons. Other favorites are funnel cakes, ice cream, roasted peanuts and soupies.
Many interesting stories and bits of trivia are given on the historical carriage ride and cemetery tours. Did you know that the most recorded deaths in the Shamokin Cemetery were that of 2000 babies that were still born? The big mausoleum is built over top of single graves.
The name SHAMOKIN is a word in the language of the Delaware Indians which signifies "Eel Creek."
The town was formed in a true tradition of a Melting pot. Immigrants who were English, Welsh, Irish, Italian, Polish, Lithuanian, and German came here.
Shamokin is home to the largest man made culm bank. Culm, by definition is waste from Anthracite coal mines, consisting of fine coal, coal dust and dirt.
The most famous name associated with Shamokin is Thomas Alva Edison. Shamokin capitalists were among the first to recognize the significance of Edison's carbon filament lamp. They supplied all the money necessary to erect a power station in Shamokin and placed it under Edison's immediate supervision.  Edison was only 35 years old when he arrived in Shamokin in the early fall of 1882. In November of that year, the Edison Electrical Illuminating Company of Shamokin was incorporated. Shamokin was the site of the second three-wire electric light station in the world in 1883 (Sunbury, Pennsylvania, was the first). Edison's plant, for those of you visiting Shamokin, is now the site of Jones Hardware on Independence Street. St. Edward's Church (built in 1873) became the first church in the America to be lit by electricity.
Noreen Clark from channel 16 was grand marshal for the parade one year, and also William H. Shaw who was a White House pilot to five U.S. presidents. Mr. Shaw was a native of the coal region.