Fall Trip Ideas
You don't have to visit Napa or Bordeaux for high-quality wine tours and tastings. Central Pennsylvania is ranked as the 5th most productive wine-growing region in the United States, with more than 140,000 acres of vineyards. Fall is one of the best times to visit the Susquehanna River Valley's wineries, tour their vineyards, and sit on their decks while sampling some of the best wine in the country. Here are three of best things to do in Central Pennsylvania this fall for wine lovers.
Susquehanna Heartland Wine Trail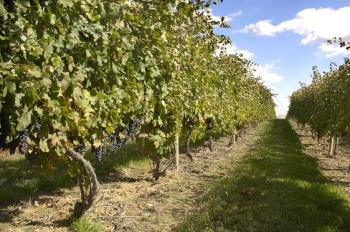 Central Pennsylvania is home to the Susquehanna Heartland Wine Trail, which has a total of 16 wineries. While they're all worth of a visit, you need to check out the vineyards overlooking the breathtaking Susquehanna River Valley. Shade Mountain Winery & Vineyard in Middleburg has a 19th-century barn on-site. It's known for its high-quality collection of red, white, blush and fruit wines. Oenophiles can participate in the vineyard's daily free wine tasting. Also nestled in the valley, Spyglass Ridge Winery in Sunbury has 15 acres of vineyards that are carefully cultivated by private owners. On the premises, the winery uses a renovated 1814 bank barn that's used for wine tastings, private events and meetings. Fero's Vineyards and Winery in Lewisburg features unique fine dry wines along with a line of sweet wines.  Four Friends Vineyard & Winery in Montgomery offers wines for all occasions and has one of the most stunning views of the Susquehanna River Valley from their deck. Buddy Boy Winery in Duncannon welcomes you to visit their backwoods hometown hospitality while enjoying their many award-winning wines, events, wine tastings and laughter at eight locations across the region. Established in 2011, Broad Mountain Vineyard produces 20+ wines and over 15 varieties of cider a year. The winery/cidery is in Elizabethville and our vineyard/event venue is in Halifax.In Liverpool, The Winery at Hunter's Valley is recognized for its stunning location and landscape of rolling hills and trimmed vineyards. The winery has a women's club and hosts live music events regularly. Visitors can also enjoy a relaxing lunch or dinner, as the winery offers a gourmet menu to pair with the wine of their choice. Family owned and operated Whispering Oaks Vineyard offers delicious wines, breathtaking views, and a stunning venue for your next celebration.  The Root Cellar, a public tasting bar, serves Whispering Oaks wines and Pennsylvania brewed beer. The Speakeasy is a more intimate space for smaller gatherings and Cill Dara (Gaelic term for 'church of the oaks'), with its cathedral ceiling and spectacular views is perfect for up to 300 guests. Whispering Oaks Vineyard in Sunbury offers the perfect location to enjoy a toast to life and the love of it.
Breweries in the Susquehanna River Valley
Central Pennsylvania is also home to the River Rat Brew Trail offering 12 breweries, each with its own distinct seasonal brews, ales and ciders.  The Susquehanna River Valley hosts seven of the breweries on the trail, all begging visitors to stop by and sample their fall beverages.  Cider enthusiasts will enjoy the cozy industrial vibe of Civil War Cider Company, Inc., located in downtown Lewisburg where they can taste a variety of hard ciders inside or around the fire pit in their "backyard."  Covered Bridge Brewhaus in downtown Shamokin offers amazing seasonal ales crafted by the owner who'll be happy to share his brewing techniques while everyone is seated on fire-engine red bar stools made out of tractor seats.  Enjoy awesome oven-fired pizza accompanied by the perfect brew at Marzoni's Brick Oven & Brewery located on the "strip" in Shamokin Dam.  Step back in time at Rusty Rail Brewing Company in Mifflinburg where you'll enjoy their signature beers in a vast renovated and updated factory complete with historical murals and a stage which hosts top-notch musical entertainment. Speaking of history, one can't find a more historical setting than the Selin's Grove Brewing Company, located in the 200-year old Governor's Mansion in Selinsgrove where you can taste their brews which have been rated as some of the best in the country.   Bull Run Tap House and Brewery located on main street in the center of downtown Lewisburg is the perfect stop for refreshing beers and food after a day of fall shopping or leaf-peeping.
Shade Mountain Winery Harvest Festival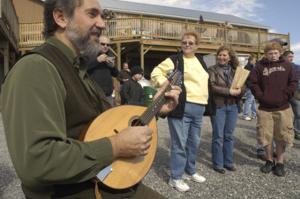 Every October, the popular Shade Mountain Winery & Vineyard hosts its own two-day wine festival where both adults and children are welcome. The event features music, homemade bean soup, a gorgeous backdrop of fall foliage and—of course—wine sampling. Adults can take part in multiple wine tastings to sample some of the best of the region, and both parents and their children can roll up their jeans and participate in an "I Love Lucy" style grape stomping inside open-faced barrels. A nearby animal refuge sets up an on-site big cats display for some added entertainment. The winery hosts of series of wine tours around the vineyard during the festival, which reveal behind-the-scenes secrets of winemaking led by an expert panel.
Lake Augusta Wine and Brew Festival
Lake Augusta Wine and Brew Festival invites some of the best wineries in the region for tastings and demonstrations every September at this festival where attendees can meet local wine growers. The event also features close to 20 local craft breweries pouring samples of their best brews. It takes place at the Sunbury Amphitheater on the gorgeous Sunbury Riverfront on the Susquehanna River during peak fall season. Live entertainment plays in the amphitheater during the event, and food vendors are on hand to help you pair your drinks with delicious eats.
Wine lovers, find out more about area wine-related events. Also, check out these other things to do in the Susquehanna River Valley during the fall.
About the Susquehanna River Valley
View Fall Foliage from the Air- Make the memory of a lifetime in a beautiful hot air balloon ride this fall in the Susquehanna River Valley with Balloon Rides Daily by the U.S. Hot Air Balloon Team
Discover our arts and culture, history and heritage.
Dine at one of the amazing restaurants in the Susquehanna River Valley. 
Enjoy "Hallo-Fun" at Knoebels Amusement Resort where it transforms the park into a spooktacular place for ghosts and ghouls of all ages.
Attend our Fall Festivals and Fairs such as Selinsgrove Market Festival, Shade Mountain Winery Harvest Festival, Lake Augusta Wine Festival, and Mifflinburg's Oktoberfest.
Explore the 6,500 acres of the Anthracite Outdoor Adventure Area, home to extensive motorized and non-motorized trails for all levels of outdoor fun!
Less than a 4-hour drive from:
Rochester
New York City
New Jersey
Philadelphia
Pittsburgh
Baltimore
Washington, DC
Northern Virginia
and a little longer from Toronto and Montreal but we love our northern neighbors!
The Susquehanna River Valley is easily accessible by Interstates 80 & 81 and Routes 15, 192, and 45.
Discover a Treasure at Every Turn
Feel free to do as little – or as much as you like. Here in the Susquehanna River Valley go at your own pace where you are the captain of your adventure and where you will discover a treasure at every turn.