Samek Art Museum Exhibits
Arts & Museum Exhibits
January 17, 2019

to

May 19, 2019
Samek Gallery
3rd Floor Elaine Langone Center, Bucknell
Lewisburg
570-577-3792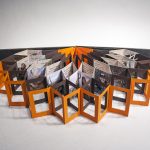 Women's Work
Oct.2, 2018-Feb. 3, 2019
Downtown Gallery
In partnership with Bucknell University's Classics Department, Women's Work is an exhibition that reexamines the traditional power structures found in classical tales. This group of artists explores agency, power, the gaze and desire, and the act of reading and responding. Classical texts such as Daedalion, the Tale of Cupid and Psyche, story of Diana and Actaeon, and The Athenian Woman: An Iconographic Handbook and more are reinterpreted by contemporary book artists. In keeping with the inspiration of classical texts, the exhibition will feature contemporary illustrations from Antigonick, the first year common reading for Bucknell's class of 2020 Along with questioning the values traditionally placed on women's work, viewers will leave with a new understanding of what a book can be.
Related Activities:

Members of Bucknell faculty will present research connected to Women's Work in a Lecture Series at Iron Front Event Space, 434 Market St Suite 301, Thursdays, 6pm.


Language and Other Games
Feb. 19-May 19, 2019
Downtown Gallery
This solo exhibition offers a selection of recent work from Bucknell University Art Professor Jonathan Frey. This body of work investigates the way the structure of a typical game can simulate social and cultural structures.
Related Events:
Artist Talk with Jonathan Frey
Friday, Feb. 22, 6pm
Iron Front Event Space, 434 Market Street, Lewisburg, PA
Border Cantos | Sonic Border
Jan. 18-March 24, 2019
Campus Gallery
Border Cantos | Sonic Border is a collaboration between American photographer Richard Misrach and Mexican American artist and composer Guillermo Galindo. Together, they explore the complexities of the US-Mexico border through photography, sculpture, and sound, inviting us to bridge boundaries and initiate conversations. Border Cantos | Sonic Border is organized by Crystal Bridges Museum of American Art, Bentonville, Arkansas. Generous support for this project is provided by Arts Bridges foundation.

Related Activities:
Sonia De Los Santos
Monday, Feb. 18, 2pm
Weis Center

Borders and Immigration Panel
Tuesday, March 19, 6pm
Gallery Forum, 2nd Floor, Elaine Langone Center

Art in Bars
Wednesday, March 27, 7pm
Iron Front Event Space, 434 Market Street, Lewisburg, PA


Exhibited Works To see the exhibited works go to bordercantos.com
Annual Senior Art Student Exhibition: Private Island
April 9-28, 2019
Campus Gallery
Private Island, an exhibition produced in conjunction with the Department of Art & Art History, features the work of Bucknell's graduating studio art majors and studio assistants. This show will introduce viewers to the broad range of motivations and media engaged by students.
Related Events:
Student Artists Talks
Friday, April 12, 5pm
Gallery Theater, top floor, Elaine Langone Center
Samek Distinguished Lecture Series featuring Robert Wittman on Art Crime in the 21st Century
Wednesday, March 6, 6 p.m., Gallery Forum,
2nd Floor, Elaine Langone Center
Come hear about Wittman's FBI career as he leads audiences through notorious art heists and incredibly daring undercover recoveries. Robert Wittman founded the FBI's National Art Crime Team and served for 20 years as the FBI's investigative expert in this field. He is responsible for recovering more than $300 million in stolen art and cultural property around the world. A reception will follow the lecture in the museum.
Art in Bars
Wednesday, March 27, 7 p.m., Iron Front Event Space
434 Market Street, Lewisburg, PA
We bring the art, a brewery brings the beer, and you bring the conversation. Join the Samek Art Museum in our favorite event — Art in Bars — where we discuss artwork and beer with the common language of taste.
View All
Upcoming Arts & Museum Exhibits Events